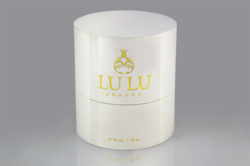 Luxury Skin Care with a Difference
London (PRWEB UK) 1 July 2012
Luxury Skin Care with a Difference
Lulu London has launched a new and powerful anti aging skin care complex, which contains a host of beneficial and innovative active ingredients.
``The conception of LULU London dates back to over 25 years ago, originating from a well-kept familial formula that endowed its users with enviably glowing, luminescent, younger-looking skin.`` - Lulu London CEO, UK, 30th June, 2012.
In order to meet the increasing demand for anti aging skin care that really delivers, Lulu London`s product development team has created the new Pearla Advanced Black Tahitian Pearl Anti Ageing Cream that offers the most impressive and effective active ingredients. These ingredients include genuine Black Pearls from Tahiti for superior cell regeneration and provides protection from the sun and other environmental radicals, Syn-ake complex (Mimicking the effects of the venom of the temple viper), which relaxes wrinkles while also filling in even the deepest lines, and Algowhite (Marine plant extract), which evens out the complexion with its lauded skin-whitening properties.
Providing Lulu London clients with luxurious anti aging moisturizing that also gives the skin more luminosity and brightness was the overarching goal of this team of beauty cream developers, and they are confident that their new creation is a winner.
By balancing the skin`s own natural oils, while also increasing cell turnover that reveals a fresher, more youthful complexion, Pearla Advanced Black Tahitian Pearl Anti Ageing Cream offers measurable results, and can even be used as a premium makeup primer.
Designed to be worn as a primer, day cream, or night cream, this versatile skin care product features only the purest extracts for maximum effectiveness. Very little product needs to be used in order to gain visible results, so this cost-effective anti aging treatment is an affordable choice for most women. In addition, the antioxidant properties found in this silky-smooth cream will also battle the skin`s little flaws, such as blotchiness and/or blemishes.
This product boosts the skin`s elasticity, giving it an appealing, firm look that is markedly more youthful. It also adds a great deal of nourishment and moisture to the skin. By reducing wrinkles and preventing the formation of new ones, Pearla gives the skin a more lustrous appearance, much akin to that of a pearl. People who use the cream regularly will enjoy refined complexions with fewer flaws, fresher looking skin with greater smoothness.
About Lulu London
Based on an old family secret, Lulu London`s range of limited edition exclusive, in-demand skin care formulas are truly the company`s hallmark. To experience more of what this British purveyor of luxury has to offer, visit their official website today. https://luluuk.com