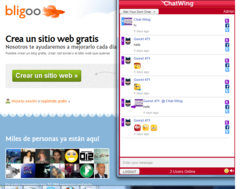 Miami, FL (PRWEB) July 01, 2012
Chatwing developers have recently launched a competitive shoutbox that can be used by active Bligoo bloggers and website owners. This shoutbox has been introduced in various blogging communities such as Wordpress and Posterous. The Chatwing chat tool has also been used by online entrepreneurs to market their products and services. This simply proves that the Chatwing chat tool is versatile and can be used for a myriad of purposes.
The Chatwing chat widget has been noted for many useful features. One of these strong features is social media integration. With this, any Chatwing user will have the opportunity to expand his social network. This can be utilized by logging in with a Facebook or Twitter account. Adding to that, the Chatwing chat box also entails a high rate of customization. The user can edit the size, color, and title of the widget. After that, he can now embed the HTML code to his blog or website. This happens in just few seconds.
The Chatwing team has already conducted numerous upgrades and developments over the past few months. This has made the chatbox run faster than ever, eliminating almost all technical glitches within an allotted time. Bloggers have also commented on Chatwing's relaxing purple theme—the simplicity entices users to remain chatting for long hours. The current version of the Chatwing shout box can accommodate up to 600 users, but the dev team is planning to upgrade it to 1000. In this way, people can chat effectively.
The Chatwing team is always dedicated in providing a reliable website chat experience for all of their users, especially those in the Bligoo community. This is only possible by working 24 hours a day and tweaking the platform accordingly. The Chatwing team also continues to reach out to other web surfers and bloggers as well, expanding the threshold of their client base. With this strategic move, many people will be able to utilize the communication leverage offered by Chatwing.
About Chatwing.com
Chatwing is a free live chat web based application for any web page online. Chatwing is very popular among blogs and websites who want to add an interactive element. The ability to let users communicate in real-time chat provides websites numerous advantages. Chatwing shoutbox also includes deep Facebook and Twitter integration. Allowing users to login to the chatwing chatbox with Facebook, Twitter, or as a guest is another great feature for websites. Chatwing website chat is 100% free. It takes seconds for anyone to create a chatwing account and customize the chat box and embed it onto any web page. Visit Chatwing.com for a live example and to sign up today.