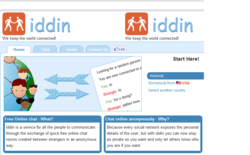 Dallas, TX (PRWEB) July 01, 2012
Dallas, TX – Iddin Live is now ready to help web surfers and date hunters find more love interests and friends online. This has been possible by the release of Iddin's latest chat application. This chat app specializes in the premise of random chat, appealing to thousands of people worldwide. Random chat has become famous because people can assume any identity and they are not prompted to give out any personal information. The latest version of Iddin chat app is now faster and can maintain connection for hours.
The Iddin development team has observed that many people love to chat online because of boredom. In a way, Iddin Live turns that boredom into a stream of communication where any topic can be discussed in the least possible time. Common topics noted in the Iddin chatroom are love, sex, dating, hobbies, humor, and some current events. In order to connect to more people, strangers can upload photos of their own. Any photo can be uploaded.
Many strangers also engage in love chat because of the spontaneity of Iddin chatroom. Since they can assume different identities, strangers can share their fantasies with each other. Other web surfers, on the other hand, gather tips about the things they do. Any location in the world can be fitted under Iddin's global scope. This makes online chat more interesting, challenging, and spontaneous. The Iddin dev team is working hard to ensure that the chatroom will maintain its connection speed all the time.
People love to chat free without interruption, based on collective reviews and complaints about other chatrooms. The Iddin team is always dedicated in creating a speedy and entertaining chat atmosphere for everyone. The developers are working round the clock to ensure that technical errors are avoided most of the time. To extend their help further, users of Iddin can now contact the developers through email in case there are bugs and known errors.
About Iddin
Iddin is a free web application that specializes in generating random chat with strangers. Users can choose the locations of the strangers, or they can have the engine to search the whole world. Random chat is encouraged to protect the identity of people and also to empower spontaneous connection that is fun and interesting. Users can visit http://www.iddin.com to discover its features.