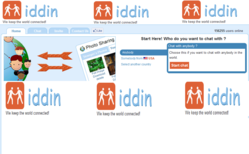 Portland, OR (PRWEB) July 02, 2012
Iddin Live is now stepping up in the dating niche by launching an online chat application that specializes in connecting strangers worldwide. This application has an immense global reach, spanning different locations simultaneously. Male and female date seekers will have lots of time and chances to connect with each other, as there are thousands of users in the Iddin chatroom daily. The Iddin dev team is also planning to expand in other online communities.
One of the best things about the Iddin chat engine is the capability to connect strangers within seconds. Since Iddin is all about the premise of random chat, everything happens spontaneously. A traditional Iddin user doesn't need to log in or give out any personal information to the website. This feature has appealed to a lot of users, especially those who are concerned about their privacy. It has been noted that personal information leakage was a problem in major chatrooms, and the Iddin team has minimized that risk to a great percentage.
Male and female date seekers, especially adults, usually engage in love chat. The Iddin team has noted that the demand for online dating has increased significantly. To help these adults gain what they want, the Iddin team has also included a photo upload feature. This feature has helped a lot of users to chat online with notable success. The dev team has also noticed that men and women with uploaded photos tend to maintain conversations for long periods of time.
The Iddin Live team is always dedicated in the pursuit of enhanced chatting experience. This is the strong reason why Iddin developers are working round the clock and tweaking the chat platform all the time. With a stable web chat platform, the Iddin team has envisioned that people will now have a stream of communication that can let them explore many things at once.
About Iddin
Iddin is a free chat application that specializes in generating random chat with strangers. Users can choose the locations of the strangers, or they can have the engine to search the whole world. Random chat is encouraged to protect the identity of people and also to empower spontaneous connection that is fun and interesting. Users can visit http://www.iddin.com to discover its features.