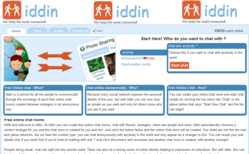 Seattle, WA (PRWEB) July 03, 2012
Students can now enjoy moments of chatting with the new online chat application launched by Iddin Live. This application is known for its speed and stability in maintaining global connection. Adding to that, the application's global reach is immense, reaching any major country across the world. Connection and reconnection can also happen in just seconds. Anyone in the Iddin chatroom has the potential to connect with strangers because the average number of daily users is higher than fifty thousand.
One of the strong features of the Iddin free chat tool is the photo upload option. Through this, strangers can now upload their best pictures. The Iddin dev team has also noted that people who chat online with photos tend to connect to hundreds of strangers. Students can utilize this option to find the partners they are looking for. Also, the Iddin chatroom is also known for its spontaneity. Since users are not prompted to give out any personal information, random identities can be assumed. This makes any conversation interesting and full of momentum.
Lately, the Iddin dev team has branched out to forums and even blogging sites. The Iddin tool received mostly positive reviews, strengthening the fact that many web surfers are always looking for a new web chat experience. Over the past few months, the Iddin dev team has also introduced different tweaks and upgrades for their chat engine. This is to ensure that the Iddin chatroom will maintain its satisfactory speed all the time.
The Iddin team is always concise when it comes to application upgrades. The team is also dedicated in the empowerment of the premise of random chat. This is to give people the chance to experience enjoyment when it comes to chatting. As an extension of the team's service, Iddin users can send out emails for feedbacks, suggestions, and error reports. The team will always deal with errors in the shortest possible time.
About Iddin
Iddin is a free web application that specializes in generating random chat with strangers. Users can choose the locations of the strangers, or they can have the engine to search the whole world. Random chat is encouraged to protect the identity of people and also to empower spontaneous connection that is fun and interesting. Users can visit http://www.iddin.com to discover its features.