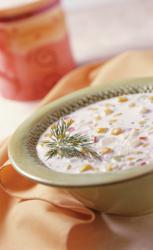 "The corn chowder is a gluten free soup and also can be prepared as a vegetarian soup. It is really easy to make with ingredients you probably already keep in your pantry, and it tastes like you made it from scratch."
Waukegan, IL (PRWEB) July 02, 2012
As local summer corn begins appearing in farmers' markets, Frontier Soups™ is introducing a Corn-ucopia basket filled with its best-selling corn chowder soup mix, other corn-themed treats, and a free kitchen tool designed to remove every sweet kernel with ease.
In addition to Frontier Soups' top selling soup mix, gluten free Illinois Prairie Corn Chowder, the Corn-ucopia basket has a gourmet cornbread mix, Southwestern spiced corn and tomato salsa, and a curved-blade Zyliss Corn Stripper, a sturdy kitchen gadget included as a free gift, said Trisha Anderson, company founder. The summer special corn-themed basket is priced at $19.95, a 27 percent savings off the retail price, Anderson said.
For a fresh summer taste, corn kernels may be added to the rich and creamy corn chowder soup mix, as well as shrimp or other seafood, and paired with a green salad and the Appalachian Trail Cornbread included in the basket for a great meal on the patio or enjoyed inside with the cool AC, she said.
"The corn chowder is a gluten free soup and also can be prepared as a vegetarian soup," Anderson said. "There's a reason it is our top selling soup mix, and that is because it is so luscious and rich. If you prefer a lighter soup, you can certainly substitute milk for the cream, but if you can indulge, the calories are definitely worth it. The corn chowder is really easy to make with ingredients you probably already keep in your pantry, and it tastes like you made it from scratch."
Frontier Soups soup mixes are all natural with no added salt, preservatives or MSG, including its other bestseller, South of the Border Tortilla Soup, which makes a great healthy soup for casual summer dining as does the Mississippi Delta Tomato Basil Soup, she said. In addition to the Appalachian Trail Cornbread Mix, Frontier Soups also offers a Mexican-spiced cornbread mix and a cheesy Roasted Corn Polenta a la Roma. For more information about the company's products, including 28 gluten free soup mixes and 12 vegetarian soup mixes, check online at http://www.FrontierSoups.com or call 1-800-300-7687 (SOUP.)
About Frontier Soups:
Frontier Soups™ has offered aspiring and accomplished home cooks a shortcut to healthy, homemade meals with 33 soups, stews, chili and chowders inspired by the finest traditions in American regional cuisine since 1986. The gourmet soup mixes, including 28 gluten free varieties, are available in such outlets as A Southern Season, Whole Foods, Central Market, The Fresh Market, Safeway, Great Harvest Bread Company and Omaha Steak stores, through national and Canadian distribution and online at FrontierSoups.com. The company is located at 895 Northpoint Blvd., Waukegan, IL 60085. More information is available online or by calling 1-800-300-7687 (SOUP.)