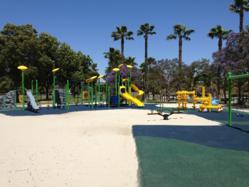 Los Angeles, CA (PRWEB) July 31, 2012
Los Angeles, San Diego Commercial Playground Equipment Company, Sun Country Systems, Inc. announces the Grand Opening and completion of a custom designed BCI Burke play structure at Mission Oaks Park, located in Camarillo, California. A Grand Opening was held on June 6, 2012 with over 300 people in attendance. The park consists of a 2-5 age group play structure and a 5-12 age group structure and encompasses 4000 square feet, larger then the playground equipment it replaced. The designs incorporated a hybrid approach to play by blending slides and climbers with contemporary gliders, rope and rock playground components. The new playground equipment was designed with special needs of children in mind. ADA access is available to all pieces of playground equipment.
The scope of work for this project included site preparation, which included the removal of existing existing playground equipment and the installation of new playground equipment. The old equipment was removed by Kids Around the World, a non-profit organization and will be shipped to Costa Rica later this summer for installation for underprivileged children in a needy community. Pleasant Valley Recreation & Park District considered several companies and various designs. Sun Country Systems, a Los Angeles based playground equipment company, serving all of California, won over five other playground equipment companies, and was chosen for its unique and creative design. The superior quality of BCI Burke playground equipment and its competitive cost was also part of the consideration. Please visit the park web site for more information and photographs at http://www.pvrpd.org/parks/active/missionoaks.asp.
The new commercial playground equipment installed in Camarillo, California offers a collection of ground level activites with access to rope net climbing components, interactive play panels, ADA sand digger and an additional stand alone structure (donated by the Amber Lyons Club). All of these components are accessible to those with limited abilities. Transfer stations are incorporated as well which allows access to higher level components such as the twisting turning slides that are available on the upper deck. Another influence of the playground design was in response the need to encourage special needs children to participate side by side with their peers but to keep all children moving. The playground equipment includes climbing, sliding, twisting, balancing, hanging, swinging, leaping, stepping, reaching, grasping, balancing as well as allowing a total development of physical, mental and interactive growth.
This project took approximately 3 weeks from start to finish. The playground equipment selected for this project was manufactured by BCI Burke, who offers unparalleled quality, customer support and service. BCI BURKE playground equipment is made in the USA.
Sun Country Systems will be completing many other commercial playground equipment projects this summer in Los Angeles, San Diego, San Bernardino, Riverside, Imperial, Orange County, Kern, San Francisco, Contra Costa, Alameda, Alameda, and Mendocino Counties. Additionally, Sun Country Systems will be completing other commercial playground equipment installation projects in Yuma, Pima, Maricopa and Navajo counties in Arizona and on the beautiful island of Oahu.
About Sun Country Systems, inc.
Sun Country Systems, Inc. is a commercial playground equipment company, with offices in Los Angeles County, Santa Clara County, Chino, Santa Clarita and Vail, Arizona. Sun Country Systems provides the design, supply and installation of commercial playground equipment, synthetic turf and a full line of playground products for both parks, schools, homeowners associations, property management companies, apartments, churches and other commercial entities. Sun Country Systems is a total turn key – full service company that provides its customers with all of its playground needs starting with a free evaluation and design to meet any budget. Sun Country Systems provides the highest quality products, including playground equipment, shade structures, synthetic grass, water play features, playground safety surfacing and site furnishings.
Contact Information
Tim Hollinger
Sun Country Systems
877-268-1550
http://www.suncountrysystems.com