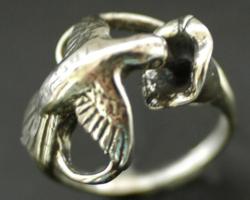 I just figured I would go watch all the new Keira Knightley movies that came out – Alicia Hanson
Seattle, WA (PRWEB) July 03, 2012
When a Hollywood movie stylist contacted Alicia Hanson and told her they wanted have Keira Knightley wear her custom ring in an upcoming film, it was pretty exciting. So Alicia sent her the sterling silver ring design, depicting a humming bird in flight, getting nectar from a blossom. But what she was hesitant to ask, was the name of the movie.
A second opportunity came up, when the stylist got back in touch, and ordered a second ring. This one was for the film's producer, who had seen it and wanted one as a gift for her mother. Still, no mention was made of which film it was, and that would not have been a problem with most actresses. But not Keira Knightley. Busy, busy, busy.
Alicia just figured she'd go and see all Ms. Knightley's films that came out, knowing films do take awhile to create.
Many, many movies later, no ring had turned up. But there was a promising movie poster showing Keira Knightley holding a bunch of old LP records, with a ring prominently displayed on the index finger of her left hand. This could be the one.
Turns out, it was. The film was Focus Features' film "Seeking a Friend for the End of the World", co-starring Steve Carell. Alicia and husband/co-designer Brad Johnson bought two tickets when the movie came out, and got to see their creation on display. The story's about how Mr. Carell and Ms. Knightley decide to spend their last days on earth when they know the end is near. Apparently, Ms. Knightley's character decided that she'd be wearing the ring right until everything went 'boom'.
So now, with one film behind her, and a lot of custom jewelry yet to be discovered by Hollywood, it may just be a matter of time before Alicia's designs make it to the big screen again. She has promised herself though, that it'll be much easier next time if she just asks what the name of the movie is. Especially if the actress is very, very busy.
COMPANY INFO
Alicia Hanson and husband Brad Johnson of Hi Octane Jewelry create custom jewelry designs in silver, featuring hot rod, vintage car, tropical floral, Hawaiiana and Asian art from their studio near Seattle.
CONTACT
For additional information, please contact Alicia Hanson at 425-582-9993; or email info(at)aliciahanson(dot)com; or view their work on web sites including AliciaHanson.com, HiOctaneJewelry.com, Etsy.com, Pinterest.com, Facebook.com and Flickr.com.