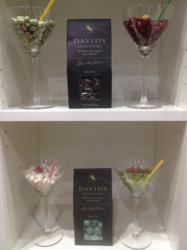 Asia wants US products, especially made in California and we have many items to choose from to hopefully meet demand.
Newport Beach, CA (PRWEB) July 03, 2012
Leaf Brands, LLC, makers of confectionery products Astro Pops®, Yummers!®, Farts Candy® and David's Signature Beyond Gourmet® products, is one of sixteen California delegates chosen to attend the Hong Kong Food Expo, representing the state of California from August 16-20, 2012 at the world renowned Hong Kong Convention and Exhibition Center.
As part of the state of California's small business efforts, the California State Trade and Export Promotion (California STEP) project leverages a statewide network of state, federal, private and non-profit trade promotion organizations to facilitate export promotion, activities, serving targeted industries, to drive exports for small businesses with the two-fold goal to 1) increase the value of exports for small businesses, and 2) increase the number of small businesses in California who export.
The HKTDC Food Expo 2012 is one of a series of events under the Food and Health framework. It is organized by Hong Kong Trade Development Council (HKTDC), the international marketing arm for Hong Kong-based traders, manufacturers and service providers. Their mission is to create opportunities for Hong Kong companies.
Last year, the Hong Kong Food Expo was attended by over 12,000 buyers from 60 countries, and more than 370,000 members of the general public. This expo creates the ideal opportunity to introduce California food and beverage products and services to thousands of people in Asia.
"We're thrilled to be a part of the California delegation to represent our products." says Leaf CEO Ellia Kassoff. "We already have Chinese distributors interested in our products and being at the trade show will help us solidify our knowledge of the market and introduce us to even more potential opportunities." "Asia wants US products, especially made in California and we have many items to choose from to hopefully meet demand." Kassoff ends.
Leaf Brands, LLC will be showcasing the following products from their line:
Astro Pops® - The iconic candy rocket lollipop reputed to be "the longest lasting sucker in the world" and has been absent from the marketplace for 8 years is back! It will be available in a 1.5 oz. size, in addition to line extension products such as Astro Pop® Asteroids, which are bite-sized candy pieces, and Astro Pops® sodas in Pineapple, Passion Fruit, and Cherry flavors.
David's Signature 'Beyond Gourmet'® Product Line - Leaf has partnered with David Klein*, the original inventor of the Jelly Belly® Jelly Bean. Unlike traditional jelly beans currently found in the marketplace, David's 'Beyond Gourmet' Jelly Beans® are the first true, 'beyond gourmet' product on the market. It's the first confectionary product of its kind: blending exotic cuisine and luxury candy. The exclusive line also includes gourmet nuts and chocolates that are made of the finest ingredients and kosher-certified.
Farts Candy® – Flavorful chewy candy nuggets in all kinds of fruity flavors that are so fun and yummy, they're funny! So fun, they'll make you laugh! Farts There are currently 16 flavors available including Pina Colada, Sour Watermelon, Sour Apple, and Root Beer.
Yummers!™ – In the same way that David Klein invented the Jelly Belly® and reinvented the jelly bean category, Yummers!™ will revolutionize the hard candy category. Made with 100% real fruit and fruit flavors ingredients, it's so yummy, you think you're eating the real fruit! Available in four varieties – Fruity, Sour, Pure, and 'Almost No Sugar.'
*David Klein is no longer affiliated with The Jelly Belly Company® and his new Line, "David's Signature Beyond Gourmet' does not have any connection with The Jelly Belly® Candy Company.
###
About Leaf Brands®, LLC: The original LEAF Brands® were started in the 1920's. LEAF Brands, once the fourth largest candy producer in North America, produced candy classics such as Whoppers®, Jolly Rancher® and Rain Blo Bubblegum®, which were later sold to Hershey Chocolate & Confectionary Corporation in the late 1990's. Family members have acquired the LEAF brand name for the US, and assembled together to revive the Leaf name and its famous image. Products include Astro Pops®, Yummers!®, Farts Candy® and David's Signature Beyond Gourmet® products.