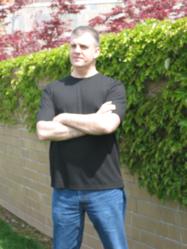 Like watching two trains approaching each other on the same track, nails will be bitten, seats half sat upon, and sweat will bead up on upper lips.
Sacramento, California (PRWEB) July 01, 2012
He is! Lawrence BoarerPitchford has reproduced his co-authored 2000 novel Tales of Mad Cows and Brothels, and is giving it away in Kindle and Apple format for free. The story centers around three anti-heroes who, the reader will grows to love to hate. Set during the reign of Queen Elizabeth I, this fantasy fable-like story is filled with rollicking adventure, brawling, copious drinking, and rude cheeky behavior. The author had this to say, "Tales of Mad Cows evolved from a set of short stories my co-author and I wrote in the nineteen nineties. The three characters, a disgraced Welsh nobleman, an Irish Pirate, and an outcast French priest, are embroiled in a plot to murder the Queen. One problem, they're drunk, they're outlaws, and they haven't a clue. We were lucky enough to be picked up by a small press called Pulsar Books, and released under their brand and guidance. I've converted the original text into two e-book formats, Apple's e-Pub, and Kindle's mobi. The book is free on my site, BoarerPitchford.com, and is a fun read and fast page turner. Feel free to contact me through the Contacts page on my site if you have any question or comments."
This novel, the first to reach publication with the author's name, has a complex plot that weaves in elements of history, fantasy, and pure adrenaline pumping swashbuckling adventure. The three heroes become entangled in a plot to murder the sovereign of England. Unwittingly, they are swept along as a relentless bounty hunter pursues them, a group of assassins' hunt them, and Francis Drake zeroes in to see justice served. Like watching two trains approaching each other on the same track, nails will be bitten, seats half sat upon, and sweat will bead up on upper lips. Don't miss this fun story presented by Lawrence BoarerPitchford.
Also, available on Amazon.com are the serial short stories In the World of Hyboria series A, and the novel The Lantern of Dern Blackhammer. Visit Amazon and check out the Lawrence's books. If you like what you see, download and read them, and write a review. If you are reluctant, check out the free book at BoarerPitchford.com and see if you might like the author's style. What the heck, it's a free download. Also, all royalties received between now and August 31, 2012 from the author's books on Amazon will be donated to the American Cancer Society.
Lawrence BoarerPitchford lives and writes near the capital of California. His purpose is to write entertaining works, and grow a following. The author's web site is BoarerPitchford.com where one can find information about the author, his latest works, works to be, and what he's up to. Also, he has a link to a blog that facilitates the discussion of fantasy fiction, and science fiction, and much more. Take a moment to explore boarerpitchford.com and visit the author on Facebook and Twitter.