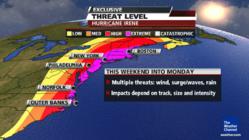 Global Elite Group has worked through some of the most damaging natural disasters the United States has experienced.
Garden City, New York (PRWEB) July 02, 2012
Now is the time to review your company's emergency response plan and ways to protect assets. There are many threats to keeping a company running smoothly. Some are man-made others are weather related. It is important to have a yearly review of how your company would remain operational in the face of any type of emergency. Because every situation is different, Global Elite Group is providing more ways companies can survive the unthinkable. "An emergency plan needs to cover location-based threats as well," explained William McGuire, President and CEO of New York-based Global Elite Group. The company specializes in services that meet safety or operational threats to keep a company running through its specialized services.
One of the important ways Global works with companies is to help them establish a chain of command, the emergency best practices Global brings is developed from previous experience in earlier disasters, debriefing and retraining to solidify areas that will affect agents the most during an emergency. Because of this the company's programs are designed to logistically and physically accomplish every goal set and to provide clients with a comfort and calm during a situation that is anything but. "Global monitors natural and unnatural disasters that affect many regions, the ability to foresee issues and plan conservatively gives us the ability to not only set goals that are attainable during the crisis, but to also supplement the critical activities that are required by many of the government agencies involved," explained Joseph D'Ascoli, Director of Special Operations for Global Elite Group.
During this past year a new type of emergency emerged in the way protesters gather. "We have seen over the course of the last year a unique threat to companies in the form of crowd control," stated McGuire. At Occupy Wall Street, crowds presented a very different problem which kept businesses running smoothly for months. This type of demonstration caught on in other areas of the U.S. and the world. Global Elite Group provides specialized services utilizing armed and unarmed perimeter security for fixed locations should the need arise. The agents come from a mixture of fields in the law enforcement spectrum from military, emergency medical technicians, fire and rescue as well as electronic systems management. "We diversify the security teams to provide the client with agents that are specialized in many of the fields that will match their company's needs and provide infrastructure and stability during an emergency situation," explained D'Ascoli.
The hurricane season of 2012 officially started on June 1st. Tropical storms Alberto and Beryl, however decided to form and cause problems in the Atlantic Basin beginning in May. The last time storms formed so early, before the official start of the season, was 1908. Forecasters are calling for 12 tropical storms, 6 hurricanes and 3 major hurricanes of category 3 or stronger. Regardless of the number, storms of this nature should be planned for as their impact costs a lot in lost revenues.
Global Elite Group has worked through some of the most damaging natural disasters the United States has experienced. Global works alongside groups such as FEMA, local and federal law enforcement, emergency medical staff, incident command centers and many other groups to help companies during an emergency. "Our programs are changing to meet the dynamic needs of our clients and to provide them with specialized resources to keep them on their feet and fully operational," D'Ascoli stated.
About Global Elite Group: The company provides emergency management services for companies of all sizes and is known for its aviation security programs for over 28 airlines located in the U.S. and abroad including United, Virgin Atlantic, British Airways, Lufthansa, Qatar Airways and Emirates. The company is always expanding service offerings to compliment the security needs of individuals, companies and high profile travelers. The company is also TSA certified to provide screenings to individuals and groups. Global Elite is also a full-service event security management company with security details available for deployment to cover small venues to large-scale multi location events. The company has been a security provider to the United Nations, U.S. Government, Olympics, Microsoft, news organizations and travelling VIPs. Other services include risk assessments and asset protection.