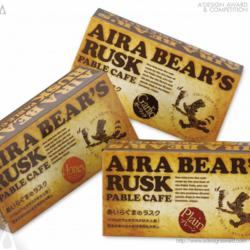 Como, Italy (PRWEB) July 03, 2012
A' Award and Competitions are proud to announce that the design Aira Bears Pable Cafe Series by Creative Director, Illustrator & Designer: Shoichiro Takei has been granted the famed Silver A' Design Award in Packaging Design Category, chosen as the winner by the esteemed jurors of the A' Design Awards & Competitions among a great number of designs.
Shoichiro Takei, the designer of the award winning work Aira Bears Pable Cafe Series tells: "The story of aira bears pable cafe goes that long before humans were born. There is a small Pable Cafe in the deep forest of Aira city. Aira Bear bakes rusks diligently for animals every day. Because of the sovory smell of rusks, animals strayed into his cafe. Some of them start living with him because they cannot forget the wonderful smell of rusks. In the course of time, they come to make their own sweets. Now the cafe has many kinds of famous products such as rolled cakes, baked donuts and so on. So many animals come to there and think that "this is the best place of relief in the forest." Learn more about this design here: http://www.adesignaward.com/design.php?ID=24513
The Silver A' Design Award
The Silver A' Design Award is a prestigious award given to top 5% percentile designs that has achieved an exemplary level of sublimity in design. The designs are judged by a panel of three different jury which is composed of 10 Academic, 10 Professional and 10 Focus Group Members. The designs are evaluated with score normalization to remove any biases and are voted on aspects such as functionality, ergonomics, engineering, presentation, innovation, usability, fun details, technology, and any other specific points that could be considered, each of these points are further weighted for different jury groups.
About A' Design Award and Competitions
A'Design Award and Competitions, aims to highlight the excellent qualifications of best designs, design concepts and design oriented products. A' Design Award and Competitions are organized and awarded annually and internationally in a multiple categories to reach a wide, design-oriented audience. Learn more at: http://www.adesignaward.com