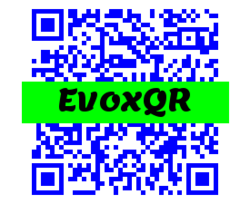 Would a Black & White QR Code capture your attention in the same way?
(PRWEB UK) 2 July 2012
Evox Facilities launch EvoxQR a "one-stop" fully featured web application, bringing design creativity to the power and technical capabilities of QR Codes, to produce QR Codes with impact and visual appeal.
The EvoxQR web application provides users a world of bespoke QR Code possibilities, through a simple token based subscription system. With the superfast "QR Wizard" users can easily achieve true creativity and impact with Coloured and Customisable QR Codes; design, modify and fine tune an idea dynamically to create the ideal QR Code. Only imagination, no technical ability, is required to create the perfect QR Code. Each tabbed stage of the "QR Wizard" has clear context sensitive on-screen guidance and intuitive controls (detail http://www.evoxfacilities.co.uk/evx_qr_pop1.php). The application's optional "Tracking and Analysis" for QR Codes with Map or Website content, provides clear, concise performance reporting through on-screen graphs & tables with download options. (detail http://www.evoxfacilities.co.uk/evx_qr_pop2.php). EvoxQR enables its users to:

produce QR Codes for Map, Website, Telephone, MeCard, SMS, Email or Text content.
generate Black & White or Coloured QR Codes from a pallet of over 90 colours.
achieve precise colour match for the body of a QR Code by Hex code colour definition.
design and create Custom QR Codes, selecting body colour, banner style/size/colour.
on Custom QR Codes add and style a "message" from 20 fonts and size/colour/weight.
produce QR Codes in quantities required through a choice of subscription packages.
manage all aspects of their QR Codes through menu driven tools in the Subscription.
QR Codes offer hugely effective benefits and diverse marketing opportunities for any business. Whether "high contrast" or "subtle", coloured, custom, bannered EvoxQR Codes do more than communicate their content seamlessly; they make a stylish impact statement with visual appeal. EvoxQR enables users to easily design and generate stunning QR Codes, for seven content types, with wide application and advantage to business, clients, customers ~ friends and family. For more information visit EvoxQR at http://www.evoxqr.com or http://www.evoxfacilities.co.uk/evoxqr.php
About Evox Facilities Ltd
Since formation in 1993, we have specialised in compilation and supply of quality, innovative, logically structured information related to the complex variables of addressing, post/zip codes, geographic, geo-spatial data; standard products, bespoke solutions and client projects. Our EvoxQR web application optimally consolidates our programming and data handling experience and skills, putting the power of QR Codes at your fingertips and under your control.