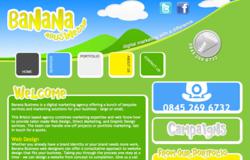 young dynamic entrepreneurs
(PRWEB UK) 2 July 2012
Ross Harper and Ed Moyse, cofounders of BuyMyFace.com are continuing their entrepreneurial streak with their latest venture: a smartphone application. The boys have already joined forces with experienced app developers, Turned On Digital. With development well under way, Ross and Ed are now bringing an exciting young start-up on board to produce the graphics - Banana Business.
Banana Business was formed in 2009 by two brothers and has since produced a number of cutting-edge website designs. With one of the cofounders just graduating from Southampton University, this young start-up has a strong student affiliation. In fact, Banana Business originally contacted Buy My Face in response to a listing posted on the student mailing list.
"Buy My Face was a young start-up, and we really believe that if you want to find talented individuals who are passionate about what they do, university is a good place to start." (Ross Harper)
"We posted on student mailing lists around the country to find the designers perfect for our app. We were contacted by Jon Hargest, Banana Business co-founder and student at Southampton University. With one look at http://www.bananabusiness.co.uk, we could tell these guys were good." (Ed Moyse)
Whilst Banana Business have an impressive portfolio of website designs, producing graphics for an application is something completely new. Still, they relish the challenge to work in this exciting and fast-growing technological industry alongside the boys from Buy My Face.
"We were delighted to be invited to work on such an exciting new project. It incorporates some of the things Banana Business loves to work with such as young dynamic entrepreneurs on a project that tests our abilities and show cases our skills to a broad audience." (Paul Hargest, Banana Business co-founder)
Ross and Ed are being very secretive about the development of their new smartphone application. Even the name of the app is yet to be announced. The one thing we do know is that the app is a completely new start-up - unrelated to BuyMyFace.com - but Ross and Ed have confirmed that they will promote their app by painting it onto their own faces.
"We have competition from thousands of apps out there. Of course we think our idea is a winner, but to produce a winning app, you need winning promotion and winning development too." (Ross Harper)
"With hundreds of thousands of people visiting BuyMyFace.com, we have a fantastic opportunity to promote our app. However, building it is something we couldn't do. I'm sure that collaborating with Turned On Digital and Banana Business will result in something sensational." (Ed Moyse)
The boys are confident in their new venture, but does their app have what it takes to top the Apple and Google app stores?