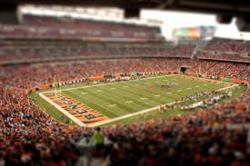 (PRWEB) July 01, 2012
Bengals fans are lining up for a shot for a seat in The Jungle as Cincinnati Bengals tickets are now available online. Last season saw the Bengals with a 9-7 record, which is a major improvement over their 4-12 season in 2010. Fans of the youngest team in the AFC are expecting an even greater season for 2012, especially with some fairly solid Draft picks this last April.
Bengals tickets for away games are already garnering demand, with the first game against the Ravens already starting to sell ahead of the 2012 season in September. This AFC rival matchup, taking place at the M&T Stadium in Baltimore, has fans expecting to see a high turnout as the Bengals clash with the Ravens on Monday, September 10th, at 7:00 p.m.
With Andy Dalton of TCU replacing Carson Palmer as quarterback in 2011, the Bengals made it to the playoffs last year. They even did it without the likes of Chad Ochocinco. With some exciting picks in April, fans are already showing confidence that their Bengals can do it again as they buy Cincinnati Bengals tickets early.
The 2012 NFL Draft brought them cornerback Drew Kirkpatrick from Alabama in round 1. Not only did they get this top tier player, but the Bengals also landed offensive guard Kevin Zeitler in round 1. Round 2 pick Devon Still from Penn State was a decent pick, but nobody to shout home about. However, the Bengals' move to pick up wide receiver Mohamed Sanu from Rutgers is widely regarded as a good move since he may work well with A.J. Green. As mentioned above, Bengals tickets are already available to see these new promising players prove themselves.
Headline Tickets Now is one of the most popular secondary ticket websites on the Internet. They have affordable sports, theater, and concert tickets across the United States and Canada, all without service fees. Headline Tickets Now is an accredited business with the Better Business Bureau (BBB) of Western Pennsylvania.
Please use Discount code "aboutme" for $3 off the already lowest prices on the ticket exchange. Please compare.