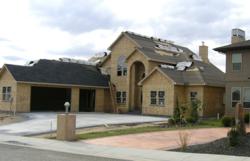 StartPackingIdaho.com is Fast, Easy and Powerful... Setting a New Standard in Real Estate Home Search.
Boise,Idaho (PRWEB) July 02, 2012
Searching for new homes in Idaho just got easier and faster... StartPackingIdaho.com provides free user-friendly, fast and easy access to all area mls listings including new home subdivisions.
Total sales of newly constructed residential listings have skyrocketed in 2012, leaping 69.59% through the end of May, based on data provided by the Intermountain Multiple Listing Service, Inc. As home buyers have grown weary sorting through Idaho's depleted housing inventory- buyer attention has turned to new home possibilities.
The Hughes Real Estate Group continues to be one of Idaho's leading real estate teams as they have for the past ten years with an extensive background in internet based real estate sales. The Hughes Team is uniquely qualified to meet consumer demand for a higher quality new home search experience. Building on a foundation of internet technology experience and sales expertise- The Hughes Real Estate Group's launch of StartPackingIdaho.com provides site features previously unavailable to local home buyers and sellers.
StartPackingIdaho.com includes cutting edge technological advances which are just plain fun to use. Mapping features on the site such as "radius search" and "polygon search" give buyers an opportunity to identify their favorite neighborhood locations searching street by street. Community icons give site visitors an intuitive way to navigate area searches while they discover all that Idaho real estate has to offer.
The Hughes Real Estate Group has established a uniquely capable Idaho real estate internet marketing presence with multiple high traffic Idaho real estate sites. BuyIdahoRealEstate.com, an additional Hughes Group internet property attracted over 585,000 site visits in the past 12 months alone making it another one of Idaho's most popular real estate search destinations.
The Hughes Real Estate Group of Silvercreek Realty is comprised of 19 full time agents with an extensive background in all facets of real estate sales. The team has thrived through the ups and downs of real estate market conditions in the past few years consistently exceeding sales projections and setting new production records each year. Experienced in working with internet savvy and knowledgeable home buyers, the Hughes Real Estate Group is often showing the Treasure Valley's most desirable new construction homes. The team closed out June, 2012 with another record setting month. Ada County single family home average sales prices hit $188,793 in May as noted by Intermountain MLS statistics. In June, the Hughes team average sale price approached $250,000 far exceeding the market norm. In launching StartPackingIdaho.com with its Idaho new homes search resources, the Hughes Real Estate Group provides home buyers with an improved search experience, a higher standard of real estate customer service and an innovative marketing channel for Idaho builders.