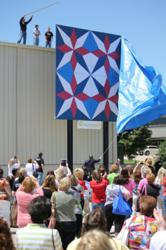 We look forward to becoming a vital part of our new community as Nebraska ambassadors to the quilting industry. Steve Nabity, CEO
Omaha, NE (PRWEB) July 02, 2012
AccuQuilt, international distributor of fabric cutting solutions for quilting and fabric crafts, inaugurated a brand new international quilting headquarters at 8843 S. 137th Circle in Omaha on June 22, 2012. The company was joined by U.S. Congressman Lee Terry and guest of honor Alex Anderson—considered the quilting industry's most influential person—plus members of the quilting trade press and hundreds of attendees from across the U.S. and Canada. The celebration included a Sarpy County Chamber of Commerce ribbon cutting and unveiling of the grand prize winner of AccuQuilt's 2012 Barn Quilt Design Contest. Two quilting retreats sponsored by AccuQuilt and Fremont quilt shop Country Traditions were held in conjunction with the events.
"The entire week of festivities and the unveiling day were a wonderful show of Nebraska spirit—and a culmination of many months of hard work by our employees and contractors. We are proud to say we are now officially an Omaha and Sarpy County business," said Steve Nabity, AccuQuilt's CEO. "We look forward to becoming a vital part of our new community as Nebraska ambassadors to the quilting industry." The company recently moved offices from the town of Fremont, 30 minutes northwest of Omaha, where it first began as a go-cart manufacturer in 1986. AccuQuilt shares the new space with sister company, AccuCut, maker of roller die cutting products for the education and crafts industries.
The unveiling event included a barbecue lunch, door prizes, tours of the new building, free craft projects, and a special presentation by Anderson. Hundreds of attendees cheered as the 17-foot rendition of the winning quilt block design was revealed for the first time. The winning design was created by Belinda Karls-Nace from Des Moines, Iowa. A five-foot copy of the runner-up quilt design by Carol Johnson of North Bay, Ontario, was hung inside the building. Both designs will be viewed by thousands of guests during the upcoming year.
In addition to the international distribution facility where AccuQuilt® Fabric Cutters are shipped across the U.S. and internationally, the new headquarters building contains a quilt gallery to show off traveling quilt collections. The opening gallery show contains a collection of Alex Anderson quilts, which she referenced in her presentation. The building also contains a state-of-the-art quilting studio, where quilters will be invited to attend classes and retreats. The building even has a coffee bar to entertain guests. The gallery, coffee bar and free tours of the facility are open to the public. The new headquarters is located just 40 miles from the International Quilt Study Center & Museum in Lincoln, Nebraska.
To learn more about AccuQuilt, visit accuquilt.com. Information about the barn quilt design contest winners and the 2012 contest can be found at http://accuquilt.com/press_releases/2012/0507_ricky_tims_announces. The AccuQuilt® GO! Baby® Fabric Cutter, GO!® Fabric Cutter, and Studio™ Fabric Cutter are available at local quilt and fabric retailers, or by visiting accuquilt.com or calling AccuQuilt at 888.258.7913.
About AccuQuilt – Better Cuts Make Better Quilts®
Headquartered in Omaha, Neb., AccuQuilt offers quilters, fabric crafters and retailers a premiere line of fabric cutters, dies, quilting patterns and other quilt and fabric cutting solutions that help quilters quickly and accurately cut shapes for quilting and fabric crafts. AccuQuilt also offers quilters a wide variety of rich educational resources to enhance their quilting experiences. Cutting with AccuQuilt® cutters is a natural evolution of fabric cutting methods. "First scissors…then rotary…finally…AccuQuilt®" for fast, easy, accurate fabric cutting. Visit AccuQuilt online at accuquilt.com.