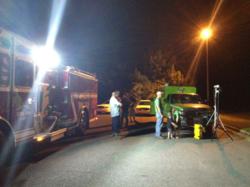 Lillington, NC (PRWEB) July 01, 2012
As the end of the fiscal year nears, HiViz LED Lighting has been busy showcasing new products all over the eastern seaboard. HiViz demo reps have met with customers like Dulles Airport, Reagan Airport, Progress Energy, and Fire Connections to showcase new lines of product specifically designed to make jobs easier and safer for their employees.
The demo truck is equipped to showcase everything from handheld pistol-grip solutions to full sized apparatus mounted brow lights. Additionally, the demo truck is stocked with product literature and printed material for customers looking to design a new solution for their fleet.
Interested having the demo truck visit your site? Contact the HiViz sales team by email or phone; sales(at)hivizleds.com or 703-662-3458.