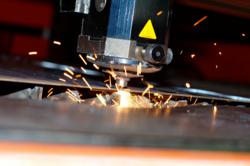 We have had a photgrapher in the factory taking pictures of our machines and facilities...
Basingstoke, UK (PRWEB UK) 1 July 2012
Branding companies that have experience in the engineering sector are difficult to find, mainly due to the shear number of branding companies around the UK. This is why a sheet metal fabrication company approached Marketing Quotes in April 2012, as they were looking for a branding agency that had experience in the engineering industry. Having never done much in the way of sales and marketing in the past, the concern was finding the right agency to communicate the message effectively and without overcharging. Marketing Quotes located three branding agencies and after several meetings, a branding company in London was appointed for the project.
The owner of the fabrication firm commented 'we are really new to this marketing thing, having been in business for over a hundred years, we have not had the need as all our work has come locally. However as the engineering industry has dried up, we have had to get a website set up, get in touch with companies outside of Bedfordshire and get ourselves more visible online. We have had a photographer in the factory taking pictures of our machines and facilities to put on the website and had a short video made of the kind of services we can offer.'
Anne Richards (who works with Marketing Quotes) added 'the engineering industry is struggling at the moment, mainly due to low cost countries overseas, so UK engineering companies need to be more vocal and more pushy when it comes to encouraging local companies to place work locally. Branding and marketing is certainly part of this, but we think there needs to be a hunger and a assertiveness to win work rather than just accept that businesses are happy to get things made on the other side of the world.'
About Marketing Quotes - Marketing Quotes is a free service to UK businesses to help get free quotes and advice from local marketing agencies that know their industry.