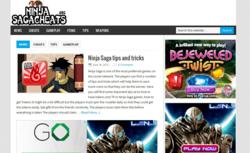 What we're seeing here is two highly successful concepts, combined together in a way that truly works, for the first time. It's little wonder that Ninja Saga has seen such an incredible rate of growth in such a short space of time
Phoenix, AZ (PRWEB) July 07, 2012
The popular social networking game Ninja Saga is now officially the fourth fastest-growing Facebook game, gaining an estimated 90,000 daily active users in May, which represents an astonishing increase of 20% over the previous month.
Ninjasagacheats.org, which is one of the leading online media sources for news and updates about the Ninja Saga game, earlier reported that the astonishing increase of 90,000 new players each day meant that the game has now reached in excess of 500,000 daily active users for the first time since it was released in late 2009.
Ninja Saga has proved to be one of the most innovative new social networking games for quite some time, combining the successful genre of beat 'em up fighting games with the relatively new concept of character building and development, as seen in such hits as Pet Society and the Sims.
In Ninja Saga, gamers not only have to cultivate as many friends as possible and gain as many coins as they can to help develop their ninjas, but they must also employ separate skills to master the art of fighting and gain the upper hand in their numerous battles.
The unique concept has proven to be an astonishing success, as evidenced by the game's rapidly growing number of DAU, claims Dan Lim, chief editor of Ninjasagacheats.org.
"What we're seeing here is two highly successful concepts, combined together in a way that truly works, for the first time. It's little wonder that Ninja Saga has seen such an incredible rate of growth in such a short space of time, and in all likelihood, the game will continue to attract more and more users for quite a while to come," explained Dan Lim.
"Of course, the entire team at Ninjasagacheats.org is going to be there to watch these future developments with interest, and we can promise all of our fans that we'll continue to keep on top of all the latest news and updates," he added.
Ninja Saga is currently available to play on several social media websites besides facebook, including MySpace, Orkut, Google + and many more.
About Ninjasagacheats.org
Ninjasagacheats.org is one of the most popular website media sources for fans of the epic Ninja Saga social networking game. The site is packed with news and information on all the latest updates for the game, and also contains a wealth of useful hints, tips and cheats for players who are struggling to progress. For more information, visit their website at http://www.ninjasagacheats.org.