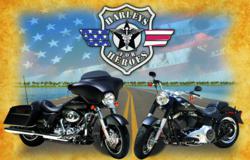 Aware of a wounded hero injured on/ after September 11, 2001, in Iraq or Afghanistan in need of medical services not being provided, or if you are a medical provider willing to join the network, please call Healing Heroes Network at 727-781-0066
Palm Harbor, FL (PRWEB) July 01, 2012
The 2012 Harleys for Heroes Sweepstakes sponsored by Healing Heroes will award one winner two Harley-Davidson ® Motorcycles and a Year of Gas! Enter online at http://www.getthebikes.com for your chance to win.
Motorcycles offered in promotion are a 2012 Harley Davidson ® Street Glide ®, and a 2012 Harley Davidson ® Fat Boy Lo ®.
Motorcycle specifications:
2012 Harley Davidson® Street Glide® is a fairing fork mounted bike, equipped with a power pack that includes an upgraded 103-Twin cam engine, ABS brakes, and H-D smart security system. The Street Glide® makes a trip around the block feel way too short due to a slamming suspension.
2012 Harley Davidson® Fat Boy® Lo has a fat front fork and the lowest seat height of any Harley. It has a 103B V-Twin cam engine with 17-inch black, bullet hole disc cast aluminum wheels. The engine is black powder-coated with satin chrome treatment covers and satin chrome, over/under shotgun exhaust with dual mufflers.
Facts about wounded U.S armed service personnel: 33% of returning service personnel have TBI, or Traumatic Brain Injury. 83% of wounded Marines and Sailors have brain injury. 69% of the brain injuries have been caused by roadside bombs and RPG's.
After the terrorist attack on September 11, 2001, and the subsequent war on terror, thousands of members of our armed forces have been injured in Iraq or Afghanistan. "As a physician specializing in Neurology and Hyperbaric Oxygen Medicine for over 20 years, I had the opportunity to treat some of these soldiers. - States Allan Spiegel M.D.
Often these brave men and women are unable to receive the medical treatments that would facilitate their return to a productive civilian life. While the Department of Veteran Affairs is diligent in providing treatment to these service members, the scope of covered services can be limited, delayed, or unavailable.
Healing Heroes and its network of providers offer the following treatment, including but not limited to; Physical and Occupational Therapy, Hyperbaric Oxygen Therapy, Cognitive Therapy and more specialized services. Treatments vary by location.
Enter online at http://www.getthebikes.com for your chance to win. Your donation benefits wounded veterans through the Healing Heroes Network.
Not interested in two Harleys and a year's supply of gas? Please visit the Healing Heroes website at http://www.healingheroesnetwork.org or call 727-781 - 4376 to speak to a team member.
Healing Heroes Network was founded in 2008 by Dr. Allan Spiegel and his wife Stacey Spiegel in order to fill the gaps. Healing Heroes Network, a 501(c)3 charitable organization, was formed with a network of providers throughout the United States to facilitate the treatment process. Healing Heroes Network provides financial assistance for those desperately needed therapies and services.
Healing Heroes Network is a nationally recognized 501(c)3 charitable organization (Fed id # 26-3714861)
Facebook http://www.facebook.com/healingheroes
Twitter http://twitter.com/HHNetwork
Youtube http://www.youtube.com/user/HealingHeroes
Healing Heroes Network
31640 US Hwy 19 N. - Suite 2
Palm Harbor, FL 34684
Phone: 727-781-4376
Fax: 727-781-4386
###