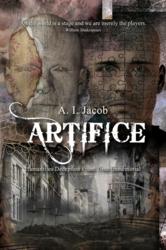 we are living in very dangerous times
Addison, TX (PRWEB) July 03, 2012
Tackling the tough questions facing humanity today, Mr. Jacob culminates his 25 years experience in social, theological and philosophical studies into a historical timeline covering world religions, global economic systems and cultural evolutions.
A.I. Jacob assembled this detailed work in response to the growing instability in the world.
"Let's be honest with one another, we live in a world of good and evil. Whether you're an atheist, agnostic, Christian, Muslim, Buddhist, Hindu or Jew - there are good and evil people in all sects of humanity," said Mr. Jacob. "Artifice answers those questions that many seem to shy away from, the how and why mankind is in such disarray".
Link to Publication: http://www.stonebutter.com
About the author:
A.I. Jacob, current affairs expert from a Hebraic perspective is the author of 'Artifice: Humanities Deception from Time Immemorial', has been a researcher, student, disciple, speaker and writer of Biblical Studies for over 25 years. Please visit http://www.aijacob.com for more information. Follow him on Twitter @AuthorAIJacob