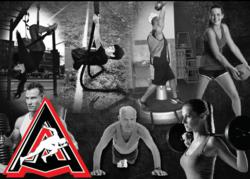 Our team provides accountability, customization, innovation, progression and safety to our athletes
New York, NY (PRWEB) July 02, 2012
The new website was created as a way to market Fishman's company, which is the engine for his life vision: promoting a culture of athleticism. The Team All-American website was designed by Jon Knight at http://www.soundpnp.com.
"At Team All-American, we believe that everyone, no matter their current fitness level, is really an athlete. Our personal trainers offer individually customized programs to help everyone get in touch with their inner athlete and feel like a champion," according to Fishman, director and founder of Team All-American.
"Our team provides accountability, customization, innovation, progression and safety to our athletes," Fishman said.
Team All-American Fitness Specialists meet with customers at their personal
training facilities, clients homes and in Central Park, which Fishman call "the greatest backyard in the world." Climbing the stairs at the Empire State Building and urban street training are included in Fishman's innovative training techniques.
To free his clients from the confines of the gym, Fishman developed an innovative freestyle bodyweight training program called Concrete Jungle Training. It allows us to embrace our surroundings and find fitness in everything we do.
Fishman's philosophy has always been about customization and personalization of fitness regimens, rather than trying to apply a one-size-fits-all method to people of different fitness levels and abilities.
"We treat every client as an individual and carefully design the perfect nutrition and exercise regime for them," Fishman explained. "Also, the right fitness regimen isn't static; it changes with the clients' changing needs and abilities, so we continually change and adapt the regimen as our clients' fitness levels improve and their needs change."
One of Fishman's main career goals is to create a culture of athleticism, where everyone can achieve their fitness goals, maximize their athletic ability, and learn to access their inner athlete.
ABOUT SCOTT FISHMAN:
Founder of Team All-American, Scott Fishman works with people of all ages and fitness levels to help them attain peak athletic performance.
Innovator of the Total Athlete Method and LIFE mission (Leadership, Intelligence, Focus, Efficiency), Scott Fishman has developed a holistic methodology that primes athletes for success in all areas of life. Scott Fishman believes that anyone who has the will to succeed—and the right training—can reach their athletic and fitness goals.
His method consists of maximizing athletic ability through customized sport-specific strength and conditioning training, coaching and education.
Fishman motivates, educates, and generously shares his hard-won wisdom. With expertise honed through formal education, research, and experimentation, Scott Fishman's techniques speak for themselves—he gets results. Integrating well-tested routines, winning strategies and an inclusive, encouraging approach to athletic performance, Team All-American delivers the ultimate program for youth, amateur, adult, senior, professional and Olympic athletes.