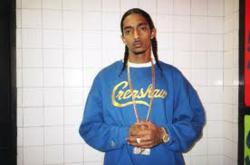 The people at Dirt selected Nipsey Hunter as the best new rapper because we just like his name better than the others"
Shari Rock, Editor
Los Angeles, California (PRWEB) July 02, 2012
Dirt.com, a worldwide Leader in Celebrity Gossip, Entertainment News, Celebrity Scandals, Hollywood Rumors, and Personal Dirt with its new DirtBlurb, today announced its much-anticipated Top New Rappers of 2012 list
The Dirt.com editors say it was a very challenging list to put together with Rappers emerging out of everywhere.
Dirt.com is rapidly becoming a leading worldwide entertainment media brand. Dirt.com covers 30,000 celebrities and has access to the World's Largest Database of Celebrity Photos. Team Dirt's Dirtarazzi and Dirt Reporters report on world breaking stories and scandal from Hollywood, L.A. , Malibu, New York, Miami, St. Tropez, St Bartes, Paris, Rio, and London.
Throughout the world, the term "Dirt" is synonymous with gossip and opinion. In this context, Ernest Hemingway originally introduced the word in 1926 when he began using the term in the letters he wrote to friends referencing "Dirt" as gossip. Ernest was a notorious Gossip Monger and loved to not only dish dirt, but receive it as well.
Shari Rock, Dirt's spokesperson says, "The people at Dirt selected Nipsey Hunter as the best new rapper because we just like his name better than the others". All this music basically sounds the same to us, so Nipsey Hussle stood out because his name sounds like Nipsey Russell, and who doesn't love Nipsey!"
Top Eighteen Best New Rappers of 2012 according to Dirt.com
18. CELEB FOREVER
17. LEP Bogus Boys
16. XV
15.ROCKIE FRESH
14.Fat Tony
13. THEOPHILUS LONDON
12. cHoolboy Q
11. DONNIS
10. Action Bronson
9. Slim the Mobster
8. Marcus Manchild
7. CHILDISH GAMBINO
6 Stalley
5. Azealia Banks
4. KID INK
3. CHAINZ
2. Hopsin
AND THE NUMBER ONE BEST NEW RAPPER OF 2012 IS…
1. 1. NIPSEY HUSSLE