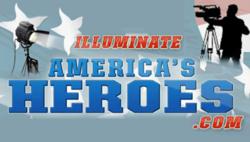 Forward a link the the Indiegogo site and Foundation's website to all your friends, and ask them to do the same!
McLean, VA (PRWEB) July 02, 2012
The Foundation to Illuminate America's Heroes announces a new campaign launched on Indiegogo to honor America's greatest hero, Merian C. Cooper, and to create a viral social media campaign to bring his heretofore hidden story to the public.
The Indiegogo site at http://igg.me/p/144309?a=777180 contains a description of the social media campaign being launched by the Foundation and a link to the embedded YouTube story of Cooper and the legendary Kosciuszko Squadron as well as the Foundation's website at http://www.illuminateamericasheroes.com.
Founding member and executive director of the Foundation, David Jamison urged patriotic Americans to click on the Indiegogo site and view the embedded video film treatment of the Cooper story and then, "forward a link to this site and to the Foundation's website to all your friends, asking them to do the same."
"If this is strongly done," Jamison said, "Cooper's inspirational story, hidden until now, will be known to millions in America and around the world to honor this true hero."