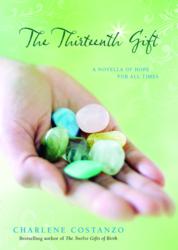 Freedom and equality are foundational themes in Costanzo's body of works.
Sedona, Arizona (PRWEB) July 03, 2012
The Thirteenth Gift is a life-affirming story that honors the inherent value within every human being. It was recognized for excellence among independently published titles and garnered the Ippy Gold Award in the category of Inspiration/Spirituality.
"Freedom of speech is one of our greatest liberties," says Costanzo.
"Many of us yearn to get a message out into the world in the form a book. With so many independent options available, publishing is now a near-fetched dream for everyone."
Freedom and equality are foundational themes in Costanzo's body of works.
Charlene's message is that everyone–regardless of any and all the ways that we measure differences–is born gifted with strength, beauty, courage, compassion, hope, joy, talent, imagination, reverence, wisdom, love, and faith.
The Thirteenth Gift is the fourth work in Charlene Costanzo's Twelve Gift Series.
This award-winning book presents a fable within a contemporary story. In the outer story, the central character, Clair, is a U.S. journalist who is torn between pursing her ambitions and dedicating herself to her family. Claire also faces the choice to focus on what's wrong in the world or to promote what is promising. While on assignment in Eastern Europe, Claire stoops to pick up a stone and learns of a local legend which explains why people world-wide collect stones. The deceptively simple story about "the thirteenth gift" has a profound affect on Claire, transforming her marriage, the way she sees the world, and her work in the world. The inner fable depicts the struggle between growing freedom, equality, and opportunity for all people and attempts by the privileged class to prevent that growth. It's a timeless story about the worth and dignity inherent in all people.
Ms. Costanzo knows both the traditional and the independent paths of publishing, with three books published by HarperCollins, one by Putnam, and one by Featherfew, the author's own small press company. "Both avenues have their advantages and disadvantages," she says. "I love both and continue to explore both."
Costanzo notes that the bestselling The Twelve Gifts of Birth, which is now published by HarperCollins, was originally independently published. After winning seven awards and selling over 250,000 copies, the book drew the attention of several large publishing houses and an agent who brought the book to auction. "It was an amazing experience," says Costanzo. "I share it because I like to inspire and encourage others to follow their dreams. But whether a book achieves success like this or not is secondary to our personal successes of self-determination and pursuing our dreams.
Charlene Gorda Costanzo is an author, workshop facilitator, wife, mother, and grandmother. She holds a B.A. in Philosophy from St. Bonaventure University and an M.A. in Spiritual Psychology from the University of Santa Monica.
The Twelve Gifts series of fables began in 1987 when Charlene wrote The Twelve Gifts of Birth as a life message for her own, then teenage, daughters. Twelve years later she published the book and began discussing its message in schools, shelters, prisons, churches, and hospitals throughout the United States.
The Twelve Gifts for Healing was written while Charlene was in treatment for advanced non-Hodgkin's lymphoma in 2001. The Twelve Gifts in Marriage comes from the ups and downs, ebbs and flows, and hurts and healings that are part of every long-term marriage.
Touchstones: Stories for Living The Twelve Gifts will be released this fall.
To learn more about Charlene Costanzo and The Twelve Gifts, please visit http://www.charlenecostanzo.com.