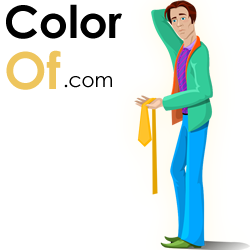 It's time we provided a way for consumers to put color first when shopping.
Huntington, New York (PRWEB) July 09, 2012
ColorOf.com today announced the launch of their new app on the Apple App Store making it easy for users to shop by color, using pixel-perfect color matching.
The ColorOf app got its humble beginnings when the website's co-founder, who is slightly colorblind, bought a new skinny tie from a high end department store, only to realize when he arrived home that he didn't have a shirt to match it. "That got my husband to thinking," Melissa Ramos said "There should be an app for that. He should be able to grab the blue stripe in a tie and search for a shirt to match. To our surprise we couldn't find anything in the app store. So I told him if developed the app I would help with the marketing."
The app developers quickly figured out why they couldn't find anything in the app store. Giving a computer the proper input to understand the different shades and hues of color can be difficult. Applying that information to a user's search criteria can be even more challenging. "Most people just go to a search engine and type in 'red pumps'; it's not a great solution when you're looking for a specific color shoe."
"When you consider that to a computer there are over 100,000 numerically distinct shades of red you begin to understand the limitations of text based searching. With the advent of intuitive touch screens, it has become easy to select the exact color you're looking for. Combine that new user interface with our electronic swatches and you have the solution to the text based search problem. With the ColorOf mobile app you can now shop by color while on the go."
Using the ColorOf mobile app, users can directly select the color they want from a photo that they've taken with their phone or that is in their tablet's photo album. Using the app's eye-dropper tool, users can choose the precise color that they want from a product. After selecting a color simply type in the keywords for the product you're looking for... 'Clothing' to 'floor tile' to 'makeup' and more - nearly anything where the color of the product is important to you.
"A product's color is one of its most important attributes when making a purchase. For some products like paint or makeup the item's color is its most appealing attribute. It's time we provided a way for consumers to put color first when shopping." Melissa adds.
About ColorOf.com
ColorOf.com provides an online database of electronic swatches allowing users to find the item they seek in the color they are looking for. Today ColorOf.com uses its proprietary color crawling system to populate their database. In the future community members, designers and retailers will be able to publish electronic swatches for items they own, like or sell.
For more information, please visit http://www.colorof.com