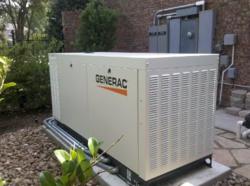 Texas will be close to the edge this summer and could experience rolling blackouts.
The Woodlands, TX (PRWEB) July 03, 2012
South Texas Generator Systems has assisted many homes and businesses in power affected areas from Dallas to Laredo with a 'Plan B" to maintain daily activities with standby generators systems that work during any power interruption.
As Texas's population has grown, power demand has surpassed increases in generating capacity, which is one solution to the state's problem. Texas, which is facing an electricity shortage, has prompted grid operators to warn the state will be close to the edge this summer and could experience rolling blackouts.
A power outage hit the southern-side of The Woodlands as well as Tomball and Magnolia at around 9:35 p.m. on Tuesday, affecting about 90,000 customers, according to Entergy Texas Inc's website.
This type of outage has become routine during the summer months all over the state. As a result of the drought last year there are an excessive amount of dead trees that contribute to the outage problems when the dead wood falls into power lines during moderate to heavy storms.
One of the best ways to mitigate the effect of brown outs and complete power outages at the home and business is to install a complete automatic stand by generator system. Today's backup generator systems have evolved into very reliable, dependable and affordable system that can safeguard revenue and man hours at the work place and foster an environment of safety, health and comfort at the home.
For more information on portable natural gas generators or diesel standby generators conact STGS for configuration standards and practices at http://www.stgs.net or http://www.southtexasgeneratorsystems.com/ We proudly represent Generac,Cummins Onan, Kolher, Briggs & Stratton, GE and Gentracker monitoring systems.