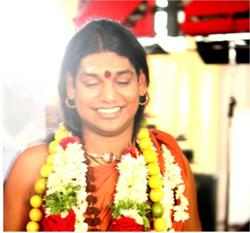 No action or reaction touches the soul. One's very presence is the pure space.
(PRWEB) July 02, 2012
Madurai Aadheenam 30th June 2012: Paramahamsa Nithyananda said, "Please understand there is a cosmic consciousness, which is pure presence that is vibrating in all the bodies, that is what we call soul, which is the controller. The reflection of the cosmic soul or cosmic consciousness in the individual body is what we call the discrimination power or individual soul.
Your body is the city of nine openings, it has nine entrances (like Tiruvannamalai- the sacred and ancient South Indian city which is called as navadwarapuri or city of nine roads). Whatever enters through these nine entrances, let it not excite you, create chaos in you, let it not create emotional imbalance in you."
Paramahamsa Nithyananda explained by saying that Bhagwan Sri Krishna is very clear in saying, "let the information reaching the system, coming in or going out through these 9 holes, let that not shake us nor distract us. Neither doing, nor having it done, settle into one's own center. It is a very powerful process and a very powerful sacred secret that Bhagwan is giving in this one verse. Just visualize the individual soul which is the pure vibration of the cosmic soul. Buddhi, manas(mind) which is the reflection of the individual soul is the one which is receiving and responding. It is not by the soul, the soul remains pure forever.
No action or reaction touches the soul, nor can it function by centering around the soul. Nothing, nothing, nothing can ever touch the soul. One's very presence is the pure space. All action and reaction happens from our buddhi, manas(discriminatory powers). Remember this and meditate on this verse. To do this samyama, one needs to just sit, feel very clearly one's pure presence, which is beyond the individual body and mind, community, caste, relationships, gender. Beyond all this is one's pure presence, it is untouched. The soul's reflection which is the manas(mind) is acting and reacting. Decide to be centered by renouncing everything and remember, that one is neither doing it nor having it done and that one's pure presence stays as pure presence. It is the mind which is the reflection, that mind receives the information, gives commands. When one remembers this and rests in pure awareness, I tell you awakening becomes one's flow of life, our very way of life.
Awakening is not supposed to be separate quality of one's life. It should be the very flow of one's life. One who is in control with all activities of mind, surely remains happy in city of 9 gates, neither doing nor having it done."
Across the world, thousands of Paramahamsa Nithyananda's disciples are preparing for the upcoming grand celebrations of Guru Purnima on 3rd July 2012. Guru Purnima is an auspicious day of the year in the Vedic culture. On this day all spiritual seekers pay their respects and gratitude to the entire lineage of Enlightened Masters who have happened to liberate human beings from their limited understandings of their True Self. This is also the most significant day when the Guru receives all into His compassion and wipes out one's karmas of life-times with his unconditional grace. This is also the only day when the Guru traditionally accepts the offerings of gratitude from a disciple in any form be it of rice, grains, flowers, money, etc. It is a symbolic offering of the 'me and mine' from the disciple. The 'me and mine' represents the ego and attributes (name, fame, material possessions, age, body, mind, qualifications, status, emotions, relationships) which constitute the mistaken identity of the human beings.
A Guru's simple initiation is a powerful alchemy process for the inner awakening to happen in a disciple. Inner Awakening transforms and liberates the disciple from the normal body-mind-human consciousness to experience the cosmic consciousness which is the true self. Experiencing the true self results in each one expressing anantakalyana gunas(the highest possibilities) which are the many supreme qualities of higher consciousness.
More details on Guru Purnima Event contact: Life Bliss Foundation @ 909.625.1400 / info@lifebliss.org
ABOUT HIS HOLINESS PARAMAHAMSA NITHYANANDA:
Videos on Enlightenment Science:
http://www.youtube.com/watch?v=ty1DtDKt-08&feature=plcp
Inner Awakening videos:
http://www.youtube.com/playlist?list=PLD5E80C03E360B2F8&feature=plpp
Kundalini Awakening videos:
http://www.youtube.com/user/LifeBlissFoundation/videos?query=kundalini+awakening
Paramahamsa Nithyananda is not only one of the most watched Spiritual Guru on YouTube, he is ranked as one of the world's 100 most spiritually influential personalities. He has recently inherited the world's oldest and most ancient Hindu Spiritual Organization – the Madurai Aadheenam, by being coronated as the 293rd pontiff of Madurai Aadheenam.
Paramahamsa Nithyananda is a global leader in yoga, meditation, kundalini awakening enlightenment science. Clear, dynamic and modern in approach, Nithyananda's teachings have already transformed 15 million followers in 150 countries with the fastest growing spiritual community around the youngest incarnation.
Paramahamsa Nithyananda remains always grateful to the spiritual masters and the rich spiritual heritage of India which made it possible for him to learn and practice these timeless spiritual truths. Wishing to share his spiritual understanding with others and dedicate his life to the service of humanity, he entered into the public life and set up his spiritual organization, to reveal to the world, the science and benefits of our ancient mystical yogic tradition and disciplines.