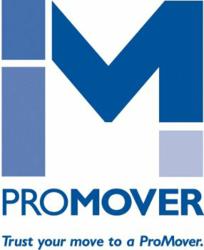 Chicago, Illinois (PRWEB) July 02, 2012
When Joel and Kathleen Donaldson of Flintstone Georgia, located on the outskirts of Chattanooga Tennessee, recently sold their house to move two hours west to Nashville, they joined the thousands of families whose first question is almost always the same: Who should I move with and how can I trust them with my valuables?
"While we are excited to be moving to a new city, the thought of moving and everything that goes with it creates a lot of stress," conceded Kathleen, a wife and mother of three. "Finding a quality mover is so important and getting three or four estimates is only the beginning. I need to make sure whoever we use is trustworthy."
In today's age, there are many unscrupulous moving companies who look, feel and act like a trusted mover. When the shipment doesn't arrive or a claim is submitted, however, these movers fail to respond or altogether disappear.
The ProMover(TM) program, developed by the American Moving and Storage Association (AMSA), is designed to make it easier for consumers to identify legitimate, trustworthy movers. It was one of the first places Kathleen visited when she found out they were moving.
AMSA's ProMover program is a consumer protection and certification program for the moving industry. Movers receiving ProMover certification must pass an extensive, comprehensive review process by AMSA. First, only AMSA members can qualify for ProMover membership. Next, each has to pass a rigorous review with applicable Federal and State agencies of professional business standards, and only those who have signed an agreement to comply with Federal and State Regulations and the AMSA Code of Ethics are granted the PRO MOVER designation. This includes a review of any felony convictions of the company's owners, officers or majority stockholders regarding matters over which the Federal Motor Carrier Safety Administration (FMCSA), the Surface Transportation Board (STB) or any state consumer protection agency has jurisdiction; verification of company ownership with the appropriate state corporation commission; and a review of each applicant's Web site for improper advertising.
Effective fourth quarter of 2011, all Allied Van Lines authorized agents were accepted into the ProMover program. Allied Van Lines is one of the largest moving companies with more than 400 authorized agents throughout North America.
"Consumers should demand that their moving company is a qualified professional mover who will follow ethical business practices with every customer," explains Steve McKenna, Vice President of Pricing and Strategic Planning for Allied Van Lines. "Being part of the ProMover program is so important to us because it shows potential and current customers our commitment to providing the highest level of moving services, and that they can trust us completely with their moving needs."
After visiting the ProMover site to research certified ProMover moving companies in her area, she ended up contacting an Allied agent, one of many qualified moving agents, for a quote.
"Right off the bat, they were highly professional on the phone, which helped me to feel better about my selection process. We noticed a distinct difference between ProMover qualified companies and non-qualified ones. It was almost night and day."
While Kathleen is still determining who will move her family, she felt the ProMover stamp of approval was exactly what she needed and very helpful when looking for a mover.
"I'm thankful that the ProMover program exists. It has reduced my stress level knowing there is an easy and reliable way to determine trustworthy, professional movers, and has allowed me to focus on the other parts of moving that I am more excited about, including new schools and meeting our new neighbors."
To learn more or get a quote from this ProMover member, contact Allied Van Lines at 800-444-6787 or visit their website at http://www.allied.com.
About Allied Van Lines, Inc.
Established in 1928, Allied Van Lines, Inc., with more than 400 agent locations in North America, is an experienced leader in household goods moving and specialized transportation services. Allied is one of the world's largest moving companies and one of the established global brands of SIRVA, Inc., a leader in providing relocation services to corporations, consumers and governments around the world. For more information about Allied, visit http://www.allied.com. U.S. DOT No. 076235
About SIRVA, Inc.
SIRVA, Inc. is a leading provider of relocation solutions to a well-established and diverse customer base around the world. SIRVA handles all aspects of relocation, including home purchase and home sale services, household goods moving, mortgage services, and home closing and settlement services. SIRVA conducts more than 300,000 relocations per year, transferring corporate and government employees in addition to individual consumers. SIRVA's well-recognized brands include Allied, Allied International, Allied Pickfords, Allied Special Products, DJK Residential, Global, North American, North American International, SIRVA Mortgage, SIRVA Move Management, SIRVA Relocation and SIRVA Settlement. More information about SIRVA can be found on the Company's Web site at http://www.sirva.com.