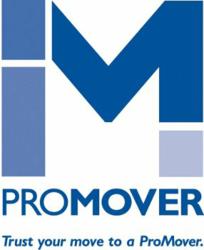 Chicago, Illinois (PRWEB) July 02, 2012
When Dr. Prosper Wang and his wife Virginia of Oak Park Illinois found out that they would be relocating to Denver for his new job, their first question was the same question asked by thousands of other families who are moving this summer: Who should I move with and how can I trust them with my valuables?
"After 10 years of living in our home, uprooting and moving everything seems overwhelming," confessed Virginia, a wife and mother of four. "Some of our belongings have monetary value, others have sentimental value, but all of it is important to us. I need to make sure whoever we use not only treats us right, but treats our belongings as if it was their own."
In today's age, there are many unscrupulous moving companies who look, feel and act like a trusted mover. When the shipment doesn't arrive or a claim is submitted, however, these movers fail to respond or altogether disappear.
The ProMover program, developed by the American Moving and Storage Association (AMSA), is designed to make it easier for consumers to identify legitimate, trustworthy movers. It was one of the first places she visited when they found out they were moving.
AMSA's ProMover program is a consumer protection and certification program for the moving industry. Movers receiving ProMover certification must pass an extensive, comprehensive review process by AMSA. First, only AMSA members can qualify for ProMover membership. Next, each has to pass a rigorous review with applicable Federal and State agencies of professional business standards, and only those who have signed an agreement to comply with Federal and State Regulations and the AMSA Code of Ethics are granted the PRO MOVER designation. This includes a review of any felony convictions of the company's owners, officers or majority stockholders regarding matters over which the Federal Motor Carrier Safety Administration (FMCSA), the Surface Transportation Board (STB) or any state consumer protection agency has jurisdiction; verification of company ownership with the appropriate state corporation commission; and a review of each applicant's Web site for improper advertising.
Effective fourth quarter of 2011, all North American Van Lines agents were accepted into the ProMover program. North American Van Lines has more than 200 authorized agents in the U.S. and Canada.
"Consumers need to know that professionalism and ethical practice can be found within the moving industry," explains Steve McKenna, Vice President of Pricing and Strategic Planning for North American Van Lines. "Having our agents as part of the ProMover program will help potential and current customers the ability to quickly distinguish us from the fly by night and unprofessional movers that tarnish our industry and the importance of having professional movers considered when moving across town or across the country."
After visiting the ProMover site to research certified ProMover moving companies in her area, Virginia ended up contacting a local North American Van Lines agent, one of many qualified moving agents, for a quote.
"The website has been a great resource for me in determining who I should contact. It is clear that having the ProMover label is like the Good Housekeeping seal of the moving industry. It's reliable and trustworthy. "
To learn more or get a quote from this distinguished ProMover member, contact North American Van Lines at 800-369-9115 or visit their website at http://www.northamerican.com.
# # #
About North American Van Lines, Inc.
Established in 1933, North American Van Lines, Inc. is a leader in providing relocation solutions to a well-established and diverse customer base around the world. With headquarters in Fort Wayne, Indiana and more than 500 agents worldwide, North American is one of the established global brands of SIRVA, Inc. and handles corporate, government, military and private relocations and operates in the U.S., Canada and more than 100 countries worldwide. Information on North American Van Lines can be found on the Internet at http://www.northamerican.com. U.S. DOT No. 070851
About SIRVA, Inc.
SIRVA, Inc. is a leading provider of relocation solutions to a well-established and diverse customer base around the world. SIRVA handles all aspects of relocation, including home purchase and home sale services, household goods moving, mortgage services, and home closing and settlement services. SIRVA conducts more than 300,000 relocations per year, transferring corporate and government employees in addition to individual consumers. SIRVA's well-recognized brands include Allied, Allied International, Allied Pickfords, Allied Special Products, DJK Residential, Global, North American, North American International, SIRVA Mortgage, SIRVA Move Management, SIRVA Relocation and SIRVA Settlement. More information about SIRVA can be found on the Company's Web site at http://www.sirva.com.