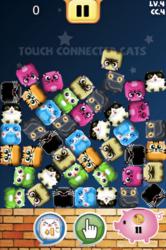 Los Angeles, CA (PRWEB) July 02, 2012
Amazing Kitty, a newly launched iOS game from Shiconal, is a feline-themed, pleasing puzzler perfectly suited for the casual game enthusiast.
Amazing Kitty operates on the popular and familiar premise of matching like objects—the objects, in this instance, being an irresistible array of cartoon kitty cats. Fresh design, calculated cuteness, great animation and adorable sound effects give Amazing Kitty all of the professional polish it needs to compete with the hottest puzzlers iTunes has to offer. However, the developers behind these felines offer the fans something more than predictability in a quality package.
What sets Amazing Kitty apart from its vast pool of competitors in the puzzle genre is the manner in which the game's mechanics are handled. The goal is to tap on matches of 2 or more like kitties that touch; upon being touched, the kitties disappear and points are granted. What makes Amazing Kitty stand out is way players maneuver the kitties to meet; rather than rotating sets of cats, or manipulating cats as they fall from the top of the screen, players rotate, shake, and angle their device to move the kitties. As they do so, the kitty collection bounces freely around inside of the confines of the screen, tumbling to one side when slowly tilted, or being unpredictably scrambled when shaken.
The team behind the game hope that the smooth animation, creative execution, and realistic physics, combined with aesthetic appeal and smile-inducing whimsy will prove to be the perfect recipe for popularity. They'll soon find out: Amazing Kitty is available for download now, in the iTunes App Store, for $0.99.
Features:

Earn coins and higher scores by stacking consecutive combos
Use your coins to unlock a feature that allows you to precisely position kitties by directing their course on the touch screen!
Watch with delight as adorable kitties tumble in response to tilting and rotating your device
Smooth animation and polished design are complemented by the perfect set of sound effects
Customize your challenge with two modes of play: Classic and Speed
Up the adrenaline by matching as many kitties as possible in under sixty seconds when you choose Speed mode
Practice perfecting your combos by earning time bonuses when you match three or more kitties in Speed mode
iTunes Appstore: http://itunes.apple.com/us/app/amazing-kitty/id500997387?mt=8