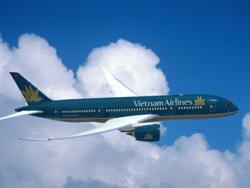 This is considered as a wise strategy attracting customers due to the popularity of Facebook users presently.
(PRWEB) July 03, 2012
On the occasion of its 5th foundation anniversary, Vietnam-airline.org launches many offerings to customers with free services and promotional programs.
Vietnam-airline.org has made customers satisfied during the past 5 years. To improve its service and be closer to customers, the website has widened to a larger scale of contents. The homepage acts as the online booking center where people can book their trips easily. Also, they can choose any type of trip, place, time, and number of applicants. Later on, they can find the flights for themselves just in a couple of minutes. Moreover, Vietnam Airlines news, which is posted right under the booking box, is constantly updated in order to support customers with useful information. Apart from such items as fleet information, route map, and fare types, the website has added two more pages that include information about travel documents and baggage. With travel documents, travelers will have a clearer look at the required documents. In other words, customers are fully offered information relating to passenger ticket, passport, identification form, visa, and arrival documents. As for the latter webpage, all of the baggage information is available for help. Customers can be provided with a wide range of information on hand baggage, checked baggage allowance, excess baggage, special baggage, baggage restrictions and disclaimer, baggage security check, and so on.
The website has recently connected to Facebook. This is considered a wise strategy for attracting customers due to the popularity of Facebook. No longer is it flat. The website is lively and rich with a variety of updated information. Apart from getting news, users can easily contact their friends and even interact with people all over the world because of the open characteristic of the website. In another words, Vietnam-airline.org Facebook allows you to see your Facebook stream inside the webpage. Thus, it has been popular among both domestic and international customers.