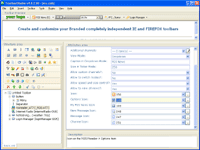 Adding this ability to a toolbar highly increases its adoption rate by end-users.
Alexandria, VA (PRWEB) July 03, 2012
Besttoolbars is improving its widely used toolbar building software, Toolbar Studio, by adding a Facebook widget. This allows to all Toolbar Studio users to include the Facebook widget on their toolbars, introducing new social media interaction capabilities.
Toolbar Studio is a visual toolbar builder developed and supported by Besttoolbars for more than 10 years, since 2001. Toolbar Studio allows any user without programming knowledge to design and build browser toolbars for Internet Explorer and Firefox. Toolbars Studio provides a simple visual interface with the ability to drag and drop toolbar elements such as search boxes, buttons, widgets, and more.
Since the introduction and widespread popularity of social media, people are spending more time on Facebook and need quick interactions and notifications of new activities associated with their profiles. Adding this ability to a toolbar highly increases its adoption rate by end-users, since this widget provides highly demanded functionally and easier interaction with the Facebook.
The Facebook widget looks like a small button on the toolbar, and provides quick access to all of the most popular Facebook features: browsing wall, checking new messages, and chatting with friends. The widget also notifies users about new messages right on the toolbar.
About Besttoolbars:
Formed in 2003, Besttoolbars is known as the leader in toolbar software. Besttoolbars focuses on browser toolbar, add-ons and extensions solutions and also offers a toolbar and add-ons frameworks. Besttoolbars has created desktop products for leading companies. More than 7000 companies worldwide use Besttoolbars solutions.