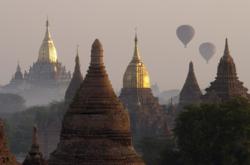 "I like to introduce travelers to the local tea shops. It is great for the atmosphere and they are full of locals who come not only for tea, but also to discuss business or simply for socializing
Yangon, Myanmar (PRWEB) July 03, 2012
Backyard Travel offers an unmatched concept in the industry by providing travelers with direct access to tour specialists who live in Myanmar. With this open communication channel and their local knowledge the highly experienced in-country travel specialists can design tailor-made tours that cater to the exact needs of the visitor. Whether it be a personalized tour of the temples of Bagan, or a cruise on the River Irrawaddy, these tailor made tours form the basis of the Backyard Travel approach of designing unique Myanmar travel experiences.
As well as custom designed tours, Backyard Travel has a full range of options for all styles of holidays in Myanmar. From food based trips for travelers wanting to learn more about Burmese cuisine, to tours catering for children for a memorable family holiday, or romantic luxury getaway for an unforgettable honeymoon.
All of the tours offered by Backyard Travel include the personal touch by their team of local experts. "I like to introduce travelers to the local tea shops," Yangon based travel specialists' Ye Thi Ha (Mr. Ye) says. "It is great for the atmosphere and they are full of locals who come not only for tea, but also to discuss business or simply for socializing."
It is not only the wealth of insider tips and local knowledge that Backyard Travel specialist can provide. Living in Myanmar they are up to date on current rules and regulations. As Mr Ye says, "You've got to plan ahead. Hotels and flights tend to get booked out way in advance. You can't get a visa overnight. And there are no ATMs. Bring brand-new dollar notes because currency exchange shops won't accept even slightly damaged bills." It is this type of on the ground expert advice that Backyard Travel shares with their clients.
With 2012 quickly coming to an end, the Myanmar tour specialist of Backyard Travel continue to develop new itineraries, source upcoming attractions, and provide exceptional customer service as they strive for continued growth for the company and tourism in Myanmar.
ABOUT BACKYARD TRAVEL:
Bangkok based Backyard Travel is an online travel company specializing in tailor made tours to Vietnam, Thailand, Cambodia, Laos, Myanmar, Indonesia and Japan. For more information about Backyard Travel, visit http://www.backyardtravel.com.