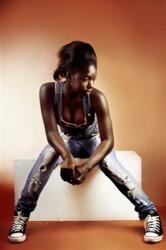 Going to school can make you feel ugly and unwanted
London, UK (PRWEB UK) 3 July 2012
Celebrating her dreams and aspirations, this teen model certainly knows what she wants and walks away from trying to be something she isn't.
At 17, with dark brown hair and gorgeous chocolate brown eyes, Amiena Colley is certainly standing tall now, despite her petite stature at 5 foot one. As an aspiring young model from Wakefield, she is turning her back on school taunts and showing the world her beauty. With the launch of her brand-new portfolio and accompanying website to view online today, Amiena explains why she wanted to become a model ever since she was a child.
' I would often dress up and stand in front of a mirror pretending that I was a model and I would start striking poses. Going to school people can make you feel ugly and unwanted so becoming a model would boost up my confidence and make me stand tall and proud as the beautiful girl I am,' she continues, 'I try not try to be someone that I am not. I believe that if I really focus and try hard I would fulfil my dream of becoming a model.'
She definitely finds modelling very exciting but she also understands it is a very challenging experience. Her photo shoots and involvement in the fashion modelling industry so far have only spurred her on, making her more determined than ever to live her dream. La Mode are not shy about steering a model away from certain types of modelling if they feel they haven't the temperament to backup their looks, however with this particular model, there were no worries at all.
'Amiena took instruction extremely well and she has model application seeping out of every pore,' says Helen.
' Every experience that I have had in this industry has been very positive. As an average teenage girl I love fashion because it is a huge part of my life.'
Admitting faults is all part of a learning curve according to La Mode London, the model advice company who dedicate their time and trouble to helping any aspiring model with whatever help they need. They are experts at answering questions while they are transforming them into a star for the day, in one of their dedicated photo shoot days.
'Amiena is a really beautiful girl, both inside and out, and although she is the first to admit she may not be the best singer, she loves to sing anyway and we admire that here at La Mode.' Explains Helen. 'She likes the challenge of putting herself into another person's shoes and she takes her health seriously, staying fit and healthy by taking part in various sports, knowing that it will not only help her maintain her figure but that it is very relevant if she wants to make modelling a long term career.'
Amiena is interested in advertising and commercial, catalogue, catwalk and fashion modelling, as well as editorial, exhibition and promotional modelling. Because of her looks, and her age, the team at La Mode also feel she can portray a model much older than her years but can also pull off looking much younger.
Having had previous modelling experience in both fashion and catwalk photo shoots, she also modelled in her school prom and in front of some of her friends. As a really good dancer, La Mode feel she has the rhythmn and natural grace to be able to saunter down the catwalk with style.
Amiena's brand-new portfolio and website is now available to view online at http://www.lamodelondon.com, alongside hundreds of models who go to the team who are in a league of their own in modelling London.