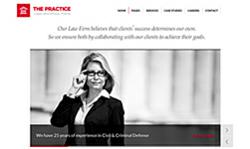 Creating a website for an attorney requires a specific approach. Therefore, the main goal is to create a trustworthy design that builds instant credibility
Bucharest, Romania (PRWEB) July 03, 2012
ThemeFuse - leading provider of premium WordPress themes has launched a new theme - The Practice - targeted towards attorneys, legal offices, and law firms that want to launch a professionally looking website that's in tune with the market's standards, but doesn't cost thousands of dollars at the same time.
"What's interesting about the 'law firm web design' space is that various design businesses usually put big price tags on their work just because they're dealing with an attorney," said Dimi Baitanciuc - co-founder of ThemeFuse. "With our new theme we wanted to show that a quality website doesn't have to cost much, and can still look stunning."
This lawyer Wordpress theme can be downloaded from ThemeFuse's website, and then installed in less than five minutes. The Practice has been designed to work with one of the most popular website management platform - WordPress - an open source system widely supported by every major hosting provider.
This new theme doesn't require any programming or web development skills in order to install it. ThemeFuse delivers a clever feature called "One Click Auto Install," which sets all the initial parameters of the website and then installs sample data the user can change later.
"Creating a website for an attorney requires a specific approach. The final product can't be too flashy or it won't look professionally enough. Therefore, the main goal of this kind of work is to create a trustworthy design that builds some instant credibility. That's exactly what we had in mind when working on this new theme," said Bogdan Condurache.
The theme supports multiple platforms, which makes the website look attractive on desktops, tablets, smartphones, and other mobile devices. Also, there are built-in SEO possibilities, so users don't have to install additional plugins to optimize their sites.
Additionally, ThemeFuse offers their users a very friendly support area and comprehensive online documentation. For more information, and details on how to get and install The Practice please visit: http://themefuse.com/wp-themes-shop/lawyer-wordpress-theme/
About ThemeFuse:
ThemeFuse, a commercial WordPress templates shop, focuses on original out of the box design and ease of use for every type of user. ThemeFuse aims at providing their customers with themes that can make every website stand out from the crowd, and also offers dedicated support around the clock.