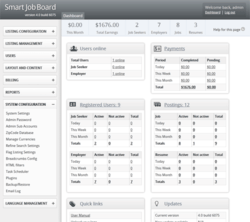 (PRWEB) July 04, 2012
SmartJobBoard Company operates on the job board software market since 2008. Throughout these years it has passed the way from a small private company to one of the leading job board software providers on the market. Today it announces the release of its brand-new 4.0 version.
"SmartJobBoard 4.0 version is the comprehensive update of the system not only in terms of new revolutionary features but also in terms of performance optimization which is a great step forward for the Company. We tried to enter a new level of development and I think we have reached this goal." told Ben Akylbekov, SmartJobBoard Product Manager.
The 4.0 version has an absolutely new billing system which is called 'Products'. Products system is easy and flexible in set up and allows creation of a unique commercial model for every job board. Shopping Cart on the user side will make the life of job seekers and employers much easier. Among other interesting features there are: promotion codes, detailed statistical reports, easy-to-set-up email notifications, newsletter, etc.
The design of SmartJobBoard Admin Panel has also dramatically changed. It is now available in a stylish and dignified gray-silver design. The dashboard menu was also complemented by additional items.
The core of SmartJobBoard software was also very much optimized for processing of more information so the new version is now faster and more endurable than older ones.
The 4.0 version is a challenging breakthrough for the SmartJobBoard Company. This is the essence of all the new trends available on job board market today. It is possible to check it out on practice by contacting SmartJobBoard directly through the Company's official website: http://www.smartjobboard.com
About SmartJobBoard:
SmartJobBoard is an advanced software platform for creating professional job board web sites.
It includes everything needed for running, customizing and extending of online recruitment service. Whether a job board is niche or general, employer or job seeker oriented, paid or free SmartJobBoard allows implementing any ideas easily.