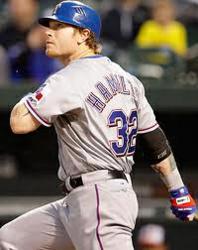 (PRWEB) July 02, 2012
Josh Hamilton had a very good reason to celebrate today. The Rangers outfielder received word during the TBS 2012 MLB All-Star Selection Show that he was the new record holder for the most votes received, placing him on the American League team in the upcoming All-Star game. His 11,073,744 votes shattered the previous record set only last season by Blue Jays outfielder, Jose Bautista, with just under 7.5 million votes.
Other players fans will get to see facing up against the best by purchasing MLB All-Star Game tickets include the returning Derek Jeter (NYY) for his 13th All-Star game and Adrian Beltre (TEX). Beltre will be returning for his third consecutive appearance in the game. For the National League, the 2010 NL Rookie of the Year, Buster Posey (SF) has recovered from his 2011 ankle injury to assume the role of starting catcher in the 2012 All-Star Game. Posey only recently caught Matt Cain's perfect game on June 13th, 2012. Together with Posey, three other Giants will be taking the field next Tuesday to battle the strong American League team.
MLB All-Star game tickets have been selling fast the last few years, as the National League ended it's more than decade-long losing streak to bounce back with two consecutive wins. This year, the NL players will be looking for their third consecutive victory against the American League. Voting was also fierce this year, with more fans than ever represented at the polls. 391.2 million votes were cast this year, crushing last year's total voting tally and setting the record for most votes cast in the history of online balloting. Obviously, many baseball fans are looking forward to this year's game.
Despite only having one player on the American League team, Billy Butler as a designated hitter, Kansas City, Missouri will be the site of the 2012 MLB All-Star Game at Kauffman Stadium. The lasttime the Royals hosted the MLB All-Star Game was 1973, the year the stadium was first built. MLB All-Star Game tickets are now available from Headline Tickets Now for the game itself on Tuesday, select events like the Monday player workout and Home Run Derby, and the entire All-Star weekend.
About Headline Tickets
Headline Tickets Now is one of the most popular secondary ticket websites on the Internet. They have affordable MLB tickets, theater, and concert tickets across the United States and Canada, all without service fees. Headline Tickets Now is an accredited business with the Better Business Bureau (BBB) of Western Pennsylvania.
Please use discount code "aboutme" for $3 off the already lowest priced MLB tickets on the ticket exchange.