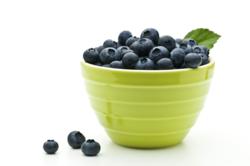 Internal and External skin care is as important to what we eat as to what we put on our skin.
Williamsville, NY (PRWEB) July 02, 2012
The estheticians at Face Fitness Skin Care take a scientific approach to the skin. The company's mantra emphasizes that external skin care, what you put on your skin, should be approached with as much consideration as diet, exercise and lifestyle choices. Just like the body, skin cells require certain nutrients for optimum health. One of the key nutrients are antioxidants. With July designated as National Blueberry Month, the spa is featuring the antioxidant benefits of their Summer Blueberry Enzyme Facial.
"Our skin is stressed on a daily basis" states Kathy Morell, esthetician at face Fitness Skin Care. "From sun and pollution, to smoking, alcohol, caffeine, fast food, and the logistics of daily life and busy work schedules." All of these can create free radicals in the body. Free radicals aggravate many skin conditions causing stress to the cell and over time, can cause cellular damage and accelerate the aging process. Antioxidants are compounds that protect the cells against the harmful effects of free radicals.
Michelle Giamberdino, owner of Face Fitness Skin Care, suggests optimizing skin nutrition topically as well as internally with antioxidants to allow the skin cells to repair and recover from environmental stress. Antioxidants should be a key component when treating the skin in professional facial treatments as well as the home care products. Since blueberries have shown antioxidant properties that fight free radicals when eaten, the spa has developed its blueberry-infused facial with the same idea in mind as an external free radical inhibitor. Their signature Summer Blueberry Enzyme Facial Treatment offers the client a powerful anti-aging treatment that exfoliates dead skin cells, reduce fine lines and enlarged pores, and provide the skin with great antioxidants within blueberries that protect skin from the effects of free radicals creating a healthy, youthful glow.
The experts at Face Fitness Skin Care use a unique, customized approach to healthy, looking skin, incorporating the latest scientific advances and the highest standard of quality ingredients with an emphasis on customizing treatments based on each client's unique skin care needs.
About the company:
With more than 25 years experience, the Face Fitness Skin Care professionals have cocktailed the finest ingredients from all of our skin care lines to create the best signature treatments available with visible results. Their goal is to educate their customers about their specific needs and customize a treatment plan to achieve healthy, beautiful skin. Face Fitness Skin Care's estheticians will recommend a facial best suited to their customers unique needs at the time of their appointment. For more information visit their website at http://www.facefitnessltd.com.