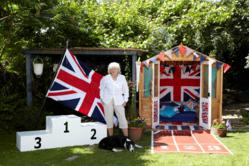 (PRWEB UK) 27 July 2012
Not wanting to miss out on the money-making opportunities of the Olympics, homemaker Tricia Jones has found an ingenious way of making money from the space in her garden. For the duration of the games she has turned her shed into a mini-sporting stadium, which guests can rent for just £40 per night on http://www.wimdu.co.uk.
Filled with memorabilia, the fully furnished shed – patriotically painted with the Union Flag – features a bed, a heater and a mini fridge, and the garden is kitted out with sporting equipment.
Sports fans can test out their best Usain 'Lightning Bolt' poses on the mini running track, or experience the thrill of carrying a replica Olympic torch. For real winners, there are gold, silver and bronze medals which can be awarded on a life-size winners' podium. Tricia's shed is still available to book for the Olympic period and can be viewed here: http://www.wimdu.co.uk/offers/5QJY25AX
Wimdu host Tricia Jones said: "I have a long-term lodger in my house so I couldn't get involved with renting out my spare room during the Olympics, but I got a bit creative and started thinking outside the box – or outside the house I should say! I thought the shed would be a fun way for tourists to really embrace the Games, after all, I don't think there are many hotel rooms that come with winner's podiums!"
Karim Hardane, CEO of Wimdu UK said: "Tricia is a great example of a savvy homeowner. By using space that is already available, she is helping to pay the bills with minimum effort involved. Wimdu.co.uk is perfect for people who want to make a little extra income and with the Olympics here on London's doorstep, it's never been easier for homeowners to take advantage."
About Wimdu
Wimdu is a social accommodation community that brings together travellers and hosts from around the world to enable consumers worldwide to travel like a local.
Wimdu enables hosts to generate additional income on their spare rooms, while guests can search for a room and a rate that suits them. The site lists a range of over 50,000 properties internationally across over 100 countries with everything from boltholes in Berlin to English castles.
Wimdu was founded in 2011 by serial entrepreneurs Hinrich Dreiling and Arne Bleckwenn who wanted to harness social media to transform the way consumers are travelling worldwide. Wimdu's Managing Director in the UK, Karim Hardane manages a team of over 30 and lists over 3,000 properties nationwide