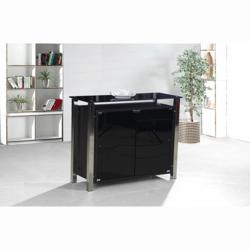 Malvern Black Sideboard
(PRWEB UK) 4 July 2012
UK's largest online retailer Furniture In Fashion is proud to announce the addition of new and innovative product Malvern black sideboard to its line of top-quality dining room furniture. The Malvern back sideboard has been specially designed to not only add elegance to a dining room but also a storage area for crockery and other kitchen items. Products from FurnitureInFashion have grown in popularity in UK, especially where the modern touch is under consideration. FurnitureInFashion offers a selection of uniquely designed modern home products. The company is known for using the finest materials and excellent craftsmanship in manufacturing the home furniture and accessories. After the successful launch of various dining tables, the company focused on further dining accessories and essential products to give a complete dining experience. Malvern sideboard is one such addition designed to make a perfect style statement.
Malvern black sideboard has a chrome support and contemporary design which makes it a perfect addition to any dining room. It has been manufactured with the best quality materials and has a tempered safety glass for providing durability and avoiding any damage. Asad at FurnitureInFashion said," Our new Malvern Black sideboard is what FurnitureInFasion are all about-timeless designs, excellent craftsmanship and a lifetime product." Malvern sideboard boasts a simple and sleep design suitable for any style conscious modern home owner. Featuring the chrome support and safety tampered glass; this dynamic glass sideboard is a unique addition to a dining room. The owner of FurnitureInFashion stressed upon the importance of offering a stylish solution selection that has been designed for modern dining rooms to cater the increasing demands of customers.
The Malvern Black sideboard in a dining room can help in managing an exquisite dinner as extra crockery can be stored in the sideboard and can be taken out when required. With Malvern sideboard, people will be able to add a unique atmosphere in their dining rooms. FurnitureInFashion has combined gentle angled corners and' straight lines in manufacturing of Malvern to add elegance and modern element in a dining room. "It's the look of a designer sideboard without the designer showroom price" said Asad.
FurnitureInFashion has paid a special attention to the manufacturing of Malvern black sideboard. From the original design to the material selection, from the gluing and sanding to staining and finishing, the entire construction process is overseen by expert craftsman using authentic and guaranteed German manufacturing processes. This attention to detail is evident from the look of the sideboard. Asad at FurnitureInFashion said," The demand for high quality modern sideboard grew and FurnitureInFashion does understand the need of these products. We at FurnitureInFashion pride is showcasing high quality designer products for dining rooms."
The price of Malvern black sideboard is very reasonable and can be afforded easily. FurnitureInFashion is known to provide best quality and designer furniture at a reasonable cost which has earned it a special place in the online retail industry. The company is known for different discount offers along with exceptionally great sales as well. The motive of FurnitureInFashion is to provide maximum comfort and relief to its customers.
FurnitureInFashion has a unique and modern dining room furniture line comprising of wooden and glass dining tables, dining chairs, shelving units, sideboards and other essential accessories. These items are available at very reasonable prices along with excellent quality and best delivery service. FurnitureInFashion also offers a broad range of bedroom, living room, office, along with items for hallway, office and bar as well. With such a broad range, FurnitureInFashion has been able to stretch its business functions across the globe and serving many clienteles in Iraq and other places around the globe. For further information and details about the products at FurnitureInFashion's catalog.