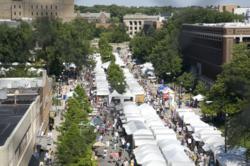 "At this year's Ann Arbor Art Fair, it still is all about the art," said Karen Delhey, a spokeswoman for the art fair.
Ann Arbor, MI (PRWEB) July 02, 2012
Art lovers across the Midwest and throughout the country will once again have the chance purchase works from more than 1,000 artists at The 53rd Annual Ann Arbor Art Fair. To be held Wednesday, July 18 through Saturday, July 21, 2012, artists from throughout the world will converge on the streets of Ann Arbor, to present high-quality and affordable art to enhance a home, office or art collection.
The Ann Arbor Art Fair is a "Pure Michigan" tradition; bringing more than a half million people each year to enjoy the work of artists from a variety of art mediums within the urban setting of Ann Arbor and the beautiful University of Michigan campus.
"At this year's Ann Arbor Art Fair, it still is all about the art," said Karen Delhey, a spokeswoman for the art fair. To help people maximize their time and know what to ask when browsing and buying art, here are three tips for how to approach this year's art fair:
1. Be prepared. If you are going to the art fair to buy art or just browse, visit http://www.theannarborartfair.com and visit Storify (http://storify.com/AnnArborArtFair) to learn more about the artists, their works and where they are exhibiting. At Storify, you will meet cancer survivors, military veterans, UAW retirees, husband and wife artists and corporate executives who left comfortable jobs to follow their passions.
2. Ask questions. Just as every artist has a great story, so too does their photograph, painting, sculpture or bracelet. A great thing about buying art at an art fair is that you get to meet the artist.
3. Take your time. Whether you are a stroller, casual buyer or collector, there are thousands of things to see and do at The Ann Arbor Art Fair. You can park close to the fair with plenty of downtown parking including 700 new parking spaces in the Library Lane structure; you can hop on the trolley that has eight stops throughout the fair or you can walk the 27 blocks filled with art.
For more information on The Ann Arbor Art Fair, Wednesday July 18, 2012 to Saturday July 21, 2012 (Wednesday-Friday 10-9; Saturday 10-6) visit http://www.TheAnnArborArtFair.com or on Facebook http://www.facebook.com/AnnArborArtFair andTwitter @AnnArborArtFair.
The Ann Arbor Art Fair – By the numbers:

4 days
500,000 people
$80,000,000 – Economic Impact on the state
1036 Artists
27 city blocks filled with art
4 Individual Art Fairs, 1 Major Event
About the Ann Arbor Art Fair
For more than 50 years, artists from all over the world have returned to the streets of Ann Arbor, exhibiting their creative talents to the more than 500,000 people who attend annually. The Ann Arbor Art Fair is comprised of four independently juried art fairs taking place simultaneously and contiguously throughout Ann Arbor. This includes Ann Arbor's South University Art Fair; Ann Arbor Street Art Fair, the Original; Ann Arbor Summer Art Fair, and the State Street Area Art Fair. The event is an art lover's destination of original works of art, street performances, culinary treats and a variety of shops featuring sidewalk sales.