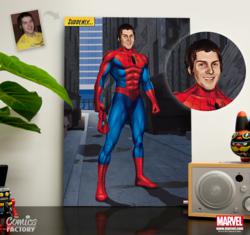 At The Comics Factory we Make Super Heroes Daily!
Hollywood, FL (PRWEB) July 03, 2012
Everyone has imagined themselves as a superhero. Whether it was Spider-Man®, Captain America®, Black Widow®, or a totally original character never imagined before. The Comics Factory™ makes stepping into the comic book role of a lifetime not only possible but as easy as uploading a photo.
Chances are the average superhero-in-training is not going to get struck by waves of Gamma Rays or bitten by a radioactive spider any time soon. Plus, who has the extra cash for a high tech armor suit or Super Soldier Serum and pricey Vita Ray treatments. Worry no more. The Comics Factory™ makes the process quick, easy, painless and affordable. One just has to choose the character that they've always wanted to be or share original ideas with them and their digital artists will hand illustrate customers into a superhero portrait sure to raise status levels to LEGENDARY. If being a villain is more fitting, well they can do that too.
The Comics Factory™ is the only company of its kind with the talent and technology to transform anyone's photo into a custom comic masterpiece. They are the only ones with the official licensing rights from Marvel® Comics, allowing you to choose from their extensive universe of heroes. No cheap filters or Photoshop® foolery here. The Comics Factory's award winning artists actually hand illustrate each portrait. From there it is digitally printed using a finely calibrated process developed after years of research to achieve the brightest colors. The customer can be part of the creative process by previewing the superhero art prior to final production.
Personalized superhero portraits start as low as $99 for a personalized Marvel® poster and the process is simple. Straight from their site TheComicsFactory.com, one can choose an official Marvel® character like Spider-Man® or Captain America®, pick a Comics Factory Original Character™ or be unique and create a completely custom character. Now, all one has to do is upload a headshot photo and in 3 days or less they will be emailed a proof of the design for approval. Once given the ok, The Comics Factory's master craftsmen professionally print and mount the masterpiece. These custom comic creations are printed on only the finest, museum quality canvas or art paper, and are available in a variety of mounting styles like gallery wrapped stretched, rolled or designer framing options. The whole process takes 10 days or less and the company ships superhero portraits worldwide.
The quality of every portrait is guaranteed from proof to print to be nothing less than amazing.
Whether one wants to clean up the streets or take over the world The Comics Factory™ can make it happen because: "We make superheroes daily!"™
To start your superhero transformation visit: https://thecomicsfactory.com/