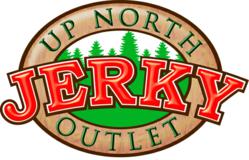 Smoked buffalo jerky from Northern Michigan is world famous for its unique flavor and texture.
Troy, Michigan (PRWEB) July 03, 2012
Up North Jerky is proud to announce the introduction of the Gourmet Gold Series wild game Jerky. Wild game jerky lovers will be pleased to discover the unique flavors of venison, elk and buffalo jerky available in the Gourmet Gold Series. These premium North Country specialties are now available online at http://www.upnorthjerky.com for direct shipment via USPS Priority mail.
Smoked buffalo jerky from Northern Michigan is world famous for its unique flavor and texture. The premium variety is the Gourmet Gold Series product line. Choice cuts of whole muscle meat are marinated with special spices then naturally smoked to perfection. The cuts are a little thicker and the drying process is not taken to completion. The result is a thick cut smoked jerky that is moist and tender with a wonderful flavor.
Gourmet Gold Series "fresh jerky" is not shelf stable and requires refrigeration upon receipt. The jerky is shipped in cold pack containers via USPS Priority Mail. Fresh game jerky is a gourmet product that can be stored refrigerated for up to 30 days. The flavorful thick cut smoked buffalo jerky is a natural for sports parties and holiday platters. Gourmet Gold smoked buffalo jerky is considered by many "Up North" customers as the best game jerky available at any price.
Up North Jerky also offers a fully shelf stable line of wild game jerky. Smoked buffalo jerky, cherry maple elk jerky and original flavor venison jerky are available in 3oz. vacuum sealed packs. Venison hunters sausage is available in convenient 3 packs. The shelf stable varieties of Up North Jerky game jerky are sold nationally at over 40 Gander Mountain outdoor sporting goods stores.
Up North Jerky also has a full product line of beef jerky, turkey jerky and jerky sausage. For a more complete description of available products log on to the Up North Jerky business website at http://www.upnorthjerkyoutlet.com.
Up North Jerky Outlets
1437 Rochester Rd.
Troy, Michigan 48083
SALES(at)UPNJO(dot)COM
Phone: 248 577-1474