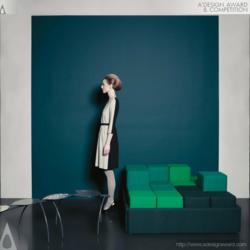 Como, Italy (PRWEB) July 04, 2012
A' Award and Competitions are proud to inform that the design Le Cube by Rob van Puijenbroek and has been granted the prestigious Platinum A' Design Award at Furniture, Decorative Items and Homeware Design Competition picked as the winner by the transnational judges of the A' Design Awards & Competitions amidst thousands of participants.
About Le Cube
Rob Van Puijenbroek, the creative mind behind the awarded project Le Cube says "A modular sofa, constructed from small cubes, which can be adjusted in height by simply adding or removing cubes. With a small adjustment, the sofa can be given a completely different look. You can play about with the seat height, seat depth, place the seating individually or collectively, give it a relaxed look or an active look. Each cube can be ordered with its own upholstery and with a hard top cover which can be used as a table surface." Learn more: http://www.adesignaward.com/design.php?ID=24014
The Platinum A' Design Award
The Platinum A' Design Award is a prestigious award given to top 1% percentile designs that has delivered an exemplary level of perfection in design. The designs are judged by a panel of three different jury which is composed of Academic, Professional and Focus Group Members. The designs are evaluated with score normalization to remove any biases and are voted on aspects such as functionality, ergonomics, engineering, presentation, innovation, usability, fun details, technology, and any other specific points that could be considered, each of these points are further weighted for different jury groups.
About A' Design Award and Competitions
A'Design Award and Competitions, aims to highlight the excellent qualifications of best designs, design concepts and design oriented products. A' Design Award and Competitions are organized and awarded annually and internationally in multiple categories to reach a wide, design-oriented audience. Learn more: http://www.whatisadesignaward.com