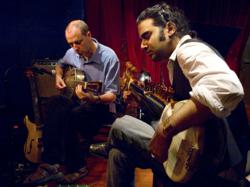 If Drom is global music for a new world ~ I couldn't feel more at home. I'm looking forward to sharing the stage with Joel, Jacob and Johannes in what will be a culturally diverse improvisational performance
New York, NY (PRWEB) July 04, 2012
Premier Performance: Music from the forthcoming collaboration "Leave the Door Open"
Collaborative work of Anupam Shobhakar (sarode) with Joel Harrison (guitar), Jacob Sacks (piano), Johannes Weidenmuller (bass)
Fri. July 13th, 2012
Two sets:
Classical 7:30pm-8:30pm featuring a duet between Anupam Shobhakar (sarode) and Jay Gandhi (bansuri) accompanied by Nitin Mitta on Tabla
Fusion World Music 8:30pm-9:30pm featuring Anupam Shobhakar (sarode) and Joel Harrison (guitar)
Drom
85 Avenue A
New York, NY 10009
(Located at 85 Ave A between 5th St. & 6th St. in the East Village, Lower East Side section of Manhattan)
(212) 777-1157 * http://www.dromnyc.com
Tickets are $15
Fri. July 13th at Drom marks the world premier concert performed by musicians Anupam Shobhakar (sarode) with Joel Harrison (guitar), Jacob Sacks (piano), and Johannes Weidenmuller (bass) featuring new music from Shobhaker's upcoming release "Leave the Door Open". This collaborative project is unique; uniting jazz and blues with the rhythmic "stringed styling" of traditional Indian music. There will be two sets: Classical beginning at 7:30pm and Fusion World Music featuring Shobhakar and Harrison at 8:30pm.
In 2010 Shobakar and Harrison embarked on a harmonious performance expedition together, blending jazz, blues and classical east-Indian music genres into a rich, inimitable sound all their own. Joel Harrison's musical style has few parallels in modern music. Guitarist, composer, arranger, vocalist, songwriter, bandleader – Harrison deftly juggles all of these roles, melding influences from jazz, classical, country, rock, and world music. His expansive sound fits equally well in jazz clubs and concert halls – and the occasional dive bar across town. When asked about their upcoming performance at Drom, Shobakar remarked, "If Drom is global music for a new world ~ I couldn't feel more at home. I'm looking forward to sharing the stage with Joel, Jacob and Johannes in what will be a culturally diverse improvisational performance and lively example of 'tayaari', meaning the perpetual preparedness for new musical ideas. Prepare to hear something new. "
"Leave the Door Open"
Sarodist Anupam Shobhakar and guitarist Joel Harrison have created a musical dialogue and union that is fresh and vital to the progressive music scene. Their new recording, "Leave the Door Open" features original compositions and arrangements of songs from India and America, performed by a remarkable group of New York-based jazz musicians. including Dan Weiss (drums, tabla), Gary Versace (piano, Hammond B3, accordion), and Hans Glawaschnig (acoustic and electric bass). They are joined by saxophonist David Binney and percussionist Todd Isler on two tracks as well as a Baul singer from Bengal and a master khyal singer from Bombay.
There has been much evidence in recent times of fusions of different streams of music. This recording stands out as a true collaboration between a classical Indian musician and a jazz-based American. Both individuals provide innovative compositions as well as exquisite versions of Willie Dixon's "Spoonful", a Bengali folksong "Kerem Advul", and the gospel tune "Deep River." Many of the pieces were developed in tandem, as both composers demonstrated a remarkable empathy for each others' approach. They strived for a seamless blend, where far flung influences and backgrounds merge in an organic way, where there is not an "Indian" episode or an "American" chapter, rather a unity.
This unity makes the record unique. Both Shobhakar and Harrison are steeped in their own traditions, yet are open and admiring of each other's history. Shobhakar, who hails from the Maihar Gharana, a family whose contribution to the world of Indian instrumental music is unparalleled, a legacy which has produced artists such as Ustad Ali Akbar Khan, Pt Ravi Shankar, Pt Nikhil Banarjee, and Baba Allaudin Khan, also grew up listening to jazz and rock music. He is perhaps the only sarodist alive willing and able to sit with New York jazz musicians and convincingly merge into their sound. Harrison is one of most prolific, eclectic musicians anywhere, with extensive experience in jazz, American roots, and classical composition. He has released 14 cds, leading all manner of unorthodox groups with jazz stars such as Donny McCaslin, Cuong Vu, Uri Caine, Paul Hanson, and David Leibman. He attended the Ali Akbar School of Music, studied briefly with Pandit Pran Nath and Vasant Rai, and has had an abiding interest in North Indian music since the age of 20. Harrison excels at "crossover" music, and has logged many miles experimenting with bringing diverse sounds together.
Harrison and Shobhakar met when Harrison received a Guggenheim Fellowship and invited Shobhakar to be featured soloist in a 75 minute composition for classical percussion quartet, guitar, sax, bass, and drums entitled "Still Point- Turning World." The two immediately found common ground, and began making new music as a duo and with the quintet. Shobhakar moved to New York in 2011, allowing the two to deepen the connection.
What you will find here are gorgeous melodies, intriguing rhythmic devices, unusual compositional forms, a huge sound world (Harrison plays five different guitars, from National Steel to Gibson SG), blazing sarode solos, heart rending singing, and funky, down home blues with a taste of country. If it all sounds like too rich a masala, we invite you to see for yourself just how remarkably unified the work is. Harrison and Shobhakar have a powerful vision that in some ways defines this era of pluralistic approaches to art.
Anupam Shobhakar is a classically mentored Indian artist; trained to play sarode in the traditional Indian fashion. For years a young Anupam completed finger exercises without even picking up the instrument and playing a single note. He describes the teaching method, "When the music comes to you, the hands will be ready. Technique isn't an issue; creating the sound is a mind/body experience that transcends contemplation." To sample a clip go to: http://www.youtube.com/watch?v=00ZRW4mLiy4.
###