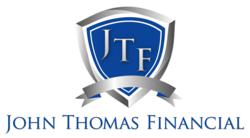 they're looking past what's going on in Europe, they're looking at earnings, looking at an eventual win in the White House with Romney
New York, NY (PRWEB) July 03, 2012
John Thomas Financial CEO Thomas Belesis appeared on CNBC's "Closing Bell" on Wednesday, June 27 2012 to discuss the EU Summit and global markets. Belesis appeared as a guest alongside the network's own contributors Mary Thompson, Rick Santelli and Jeff Cox.
Belesis expressed optimism in the markets despite uncertainty on Europe. Asked why fear does not appear to be dominating consumer sentiment, Belesis explained, "they're looking past what's going on in Europe, they're looking at earnings, looking at an eventual win in the White House with Romney. I think people are getting very confident with what's going on in the marketplace."
Mr. Belesis appears regularly on broadcast media, including FOX Business News and CNBC, as a panelist and contributing guest on issues regarding finance and the economy as well as national politics. He serves as the Co-Chairman of the New York State Finance Committee for the Republican Party. To view clips of Mr. Belesis' appearances on programs such as Bulls & Bears, The Kudlow Report, After the Bell and more, visit the John Thomas Financial YouTube channel.
For timely insights, news, and commentary on economics and financial markets, visit the JTF Blog or join the John Thomas Financial community on Twitter and Facebook.
About John Thomas Financial
John Thomas Financial, a member of FINRA and SIPC, is an independent broker-dealer and investment banking firm headquartered in New York City's Wall Street district. Emphasizing a client-centric approach to managing all aspects of its business, John Thomas Financial and its affiliates offer a full complement of retail brokerage, private wealth management, and corporate advisory services tailored to the unique needs of its clients. The firm publishes the Fiscal Liquidity Index a unique daily indicator that looks at government spending and its impact on the financial markets, as well as The John Thomas Financial Economic Outlook, a report analyzing consumer sentiment, market outlook, credit cycles and dozens of other market influences.