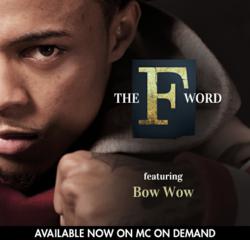 New York, NY (PRWEB) July 02, 2012
Music Choice today unveiled the latest episode of "THE F WORD". The show is available for free On Demand starting today and features actor/rapper BOW WOW. Fame. Every artist wants it. But once they have it, how do they handle it? The F Word focuses on the total picture of being famous, giving fans the inside story from the artists themselves. Featured artists reflect on their fame — from the highs and lows to everything in between. #MCFWord
The 'F' Word is a 15-minute show that focuses on the total picture of being famous. Additional artists to be featured this season include: Justin Bieber, Cobra Starship and many more.
Check out the new @MusicChoice original show, 'The F Word', for the inside scoop on the pressures of FAME with @BowWow #MCFWord here http://www.musicchoice.com/Originals/#show=Mcthefword&vid=48ebe1c8-6ae4-4c8e-acc7-66ddf52db0c4
MC On Demand is the #1 On Demand Network with 1.3 billion annual views. It is currently available in 51 million households. MC's exclusive originals get music fans acquainted with the artists they love — and help them discover new favorites. Popular music shows include Live Undefined, Cosigned & Decoded. Each show is meant to help aid consumer music discovery and provide a way to experience music in their daily lives.
For more information on MC Programming, visit http://www.musicchoice.com/Originals/