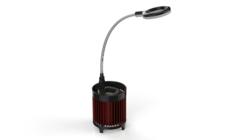 As a teacher, I can see Third World applications for the tPOD1. This elegantly simple device could add hours of useful study time to the days of kids all over the world who live in countries which don't have a reliable source of power...Matt Porroveccchio
Traverse City, MI (PRWEB) July 11, 2012
Tellurex Corporation finished a very successful tPOD1 product introduction on Kickstarter.com by raising over $111,000 – 131% of the project's goal. This success will fund everything attendant to delivering very small tea candle-powered generators to the product's first supporters and targeted markets. The company announces production is set to begin in August, 2012.
Sportsmen, campers and backpackers will have off-grid cell phone and GPS charging capabilities. People in power outage emergency situations will be able to charge iPhones and Android phones for communication and maintenance of GPS. The tPOD1 will allow them to place emergency phone calls, send emergency text messages and receive wireless emergency alerts (WEA) from the National Weather Service. The world's huge populations living off-grid in the developing world will have access to on-demand light and be able to charge their cells phones in their own homes. The elegant, 10 ounce, robust tPOD1 will be a game changer.
Many of the 1,342 Tellurex Kickstarter supporters pledged at levels that will underwrite donations of tPOD1's to the developing world. The Manton, Michigan chapter of Rotary International will work with Tellurex to make that happen. Children studying by fire light tonight (or unable to study after dark at all) will be using bright desk lamps in the very near future. Smokey fires now used for light inside of some dwellings will cease to ravage their lungs.
Tornado and flood victims, back country sportsmen and people whose employment can take them off grid will have dependable light, communication and GPS capacity without having to carry generators or risking the condition of batteries.
Beyond US supporters, the Kickstarter community participated from Germany, France, India, Japan, Australia, and Canada. During the program, tPOD1-related distribution and sales inquiries were received from hardware, sporting goods and big box home furnishing stores both domestically and abroad. Tellurex plans to present the product to state and federal offices for emergency preparedness and to governments and relief agencies around the world.
About the size of a soup can, when a tPOD1 power generator with its detachable LED light is placed over a tea candle, it will provide bright light for reading or common tasks within two minutes – sustainable for four hours or more. The tPOD1 will also charge a battery pack that, in turn, will provide a power source for devices such as Android Phones, iPhones and GPS devices.
Tea candles are generally available all over the world, cost an average of about six cents apiece and, unlike batteries, do not have a limited shelf life. A candle stored in the types of bomb shelters many Americans built in their basements and back yards in the 1950's and '60's would power a tPOD1 for four hours today. A 50-year old battery would not power anything.
The tPOD1 and a larger tPOD family member, the tPOD5, can be examined at tPOD1 and tPOD5. Commercial availability of these Tellurex products should commence in August.
Tellurex Corporation is a Traverse City, Michigan-based company pioneering in thermoelectric applications. The company develops its own products and also collaborates with others to advance thermoelectric technology into medical testing equipment, wireless sensors, thermally controlled enclosures and a variety of other applications in both power generation and thermal management.
FOR MORE INFORMATION, contact Peter Schmitz (pschmitz(at)tellurex(dot)com) at (231) 947-0110.